The Walking Dead is back for the second part of Season 10 – with the show taking new directions (again). UK Cord cutters might wonder – where can I watch The Walking Dead online, or on TV, without a cable TV subscription? There are several options which I'll cover here.
For those who are either new to the series, or need a refresher, The Walking Dead is a TV series based on the comic book created by Robert Kirkman. The TV version was originally developed by Frank Darabont (who directed The Shawshank Redemption, among others), who left during the second season due to creative and financial differences.
The Walking Dead is a horror drama, showing a post-apocalyptic world infested with zombies, or "Walkers" as they're called on the show. Series regular – and the former star of the show – Andrew Lincoln (Rick Grimes) has left the series last year (though he will return for a series of movies), and it'll be interesting to see how things go on without him.
Season 9, which aired last year, showed us the ongoing war between our heroes and a new group of villains –  "The Whisperers." Part 1 of Season 10 dealt with the aftermath of the dramatic (and tragic) results of that war, and – without spoiling anything – things have been… dramatic.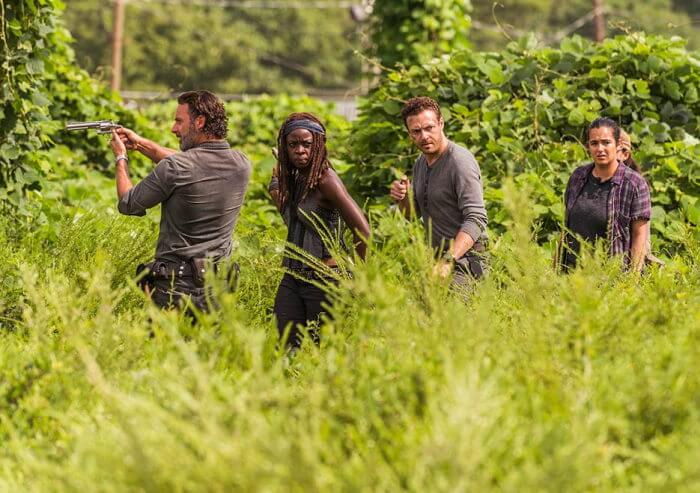 Where Can I Watch The Walking Dead In The UK – Past And Current Episodes?
In the US, The Walking Dead airs on the AMC cable network, and in the UK it normally airs on Fox UK. Cord cutters, however, also have several options for watching the show – both past seasons and the newest one. First, no – The Walking Dead does NOT air on Netflix in the UK. Past seasons are available on Netflix in the US though – here's how to watch US Netflix in the UK.
Season 10 premiered in the US on October 6, then went on a winter break. Part 2 of Season 10 returns on February 23, 2020 – and will air week to week.
Here in the UK, the new episodes of Season 10, Part 2 will be available one day after the US broadcast, starting on February 24, at 9pm – on Fox UK and NOW TV.
These are your major options for past and futures episodes:
1. NOW TV – Seasons 1-10
Sky's on-demand service, meant to compete with Netflix, offers a cheaper price over Sky's regular TV offerings – and without a lengthy contract (see my guide on getting cheap NOW TV passes).
All past seasons of The Walking Dead are now available on NOW TV, so you can binge-watch and get ready for the new episodes. However, for now, past episodes will only be available until March 6 – so you better hurry (but they'll probably be back in the future).
Season 10 episodes are added to NOW TV week to week, every Monday night.
2. Amazon Prime Video – Seasons 1-10
Amazon's video on demand library offers all past seasons of The Walking Dead. There's a catch, however – Series 1 to Series 8 are available via Amazon Prime Instant Video (Read our review), for the same subscription fee you normally pay.
However, seasons 9-10 are only available, for now, as a separate purchase.
As for Season 10, you can buy a "Season Pass", and get a message every time a new episode is available – week by week.
Watch On: Amazon's website, Amazon Fire TV, Roku, Smartphones, Gaming consoles (NO Chromecast or Apple TV for now).
Quick Tip: With Amazon, you can also go the old-fashioned way, and get past seasons on DVD.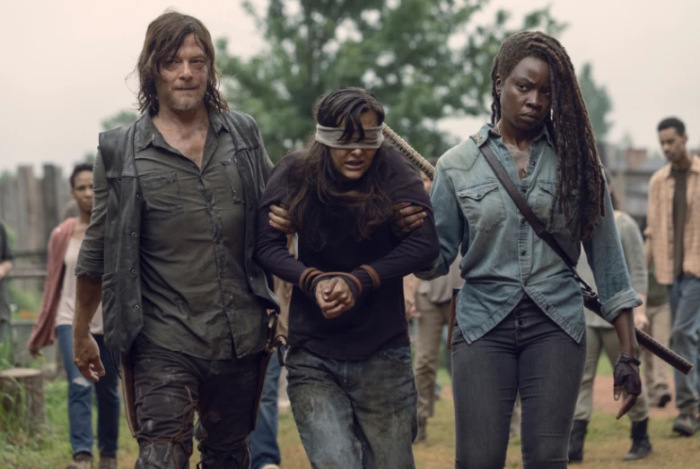 3. Google Play Store – Seasons 1-9
Google's play store offers all past seasons of The Walking Dead, but Season 10 isn't available yes, and will probably show up there once the whole season ends.
However, it's a video on demand store – there are no subscription options, and you would have to buy each episode separately.
Watch On: Chromecast, certain models of Smart TVs, Roku, smartphones and certain other devices via the YouTube app (No direct Amazon Fire TV or Apple TV support).