Think the streaming TV market is getting too crowded? Think again, as yet another streaming service is coming soon, this time from NBCUniversal. The new service, called "Peacock" (after NBC's famous logo) will launch on April 2020, with a back-catalogue of 15,000 hours of content, as well as new shows – like reboots of Battlestar Galactica and… Saved By The Bell.
It's unknown yet if – and when – "Peacock" will launch in the UK – though with US-giant Comcast being the owner of both NBCUniversal and Sky, it will possibly reach our shores as part of some collaboration with Sky (and possibly NOW TV).

As part of Peacock's battle against rival streaming services Netflix and Amazon Prime Video, popular American shows The Office and Parks and Recreation will move exclusively to the new service in 2020.
NBCUniversal also announced several new shows that are set to debut on their new streaming service:
Battlestar Galactica: A reboot of a reboot, the new incarnation of the acclaimed series will be helmed by Mr Robot creator, Sam Esmail, according to Deadline. The original Battlestar Galactica aired back in 1978 (followed by Galactica 1980, a year later). Then, in 2003, the series was "re-imagined" by TV sci-fi veteran Ronald D. Moore and was highly regarded by both viewers and critics.
Not much is known about the plot of the new Battlestar at this point, but Sam Esmail is said to be "a huge fan" of the show, and has received the blessing of Moore for the new version.
Sam Esmail took to Twitter to let fans know that the new series is not going be a "remake" of the Battlestar Galactica remake, but instead will explore "a new story within the mythology", because – "Why mess with perfection?"
https://twitter.com/samesmail/status/1173987378894999552
Saved by The Bell: Yet another reboot, this one even more surprising – the new series will continue the high-school comedy that aired back in 1989. Original cast members Mario Lopez and Elizabeth Berkley are set to star in the new series (as parents of high-school kids this time around), and Mark-Paul Gosselaar is in talks to reprise his role as Zack Morris, this time as… the governor of California.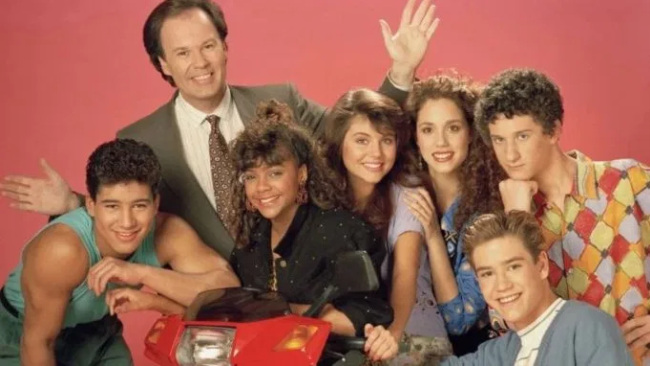 More shows that were announced as part of the launch of the new streaming service are Dr Death, which is based on a popular true-crime podcast and will star Jamie Dornan and Alec Baldwin, and Brave New World, which is based on the dystopian novel by Aldous Huxley.
In the UK, NBCUniversal operates The Universal Channel, which is available both with 'traditional' cable packages from Sky, Virgin Media, etc' – and on Sky's streaming service, NOW TV.
If "Peacock" doesn't reach our shores straight away, it's possible some of its content will air on the existing Universal Channel – but that remains to be seen.
The new service joins new streaming services Disney+, Apple TV+ and HBOMax, which are all set to launch in the coming months. As of now, Apple TV+ is the only service that already has an official UK launch date – November 1.