A new month is here, with some interesting new additions coming to NOW (and Sky): From the second seasons of sci-fi shows Raised By Wolves and Sky's original Bloods, to recent popular films like Fast & Furious 9 and Malignant, true-crime documentaries, and more Premier League and the FA Women's Super League.
NOW (Formerly NOW TV- they changed the name last year) is Sky's no-contract streaming service – a low-cost TV platform that gives you flexible packages – "memberships" of content that can be watched on a variety of streaming devices.
The plans include the Entertainment Membership for TV shows and Kids content, the Cinema Membership for films, and the Sky Sports Membership (See our full NOW review here).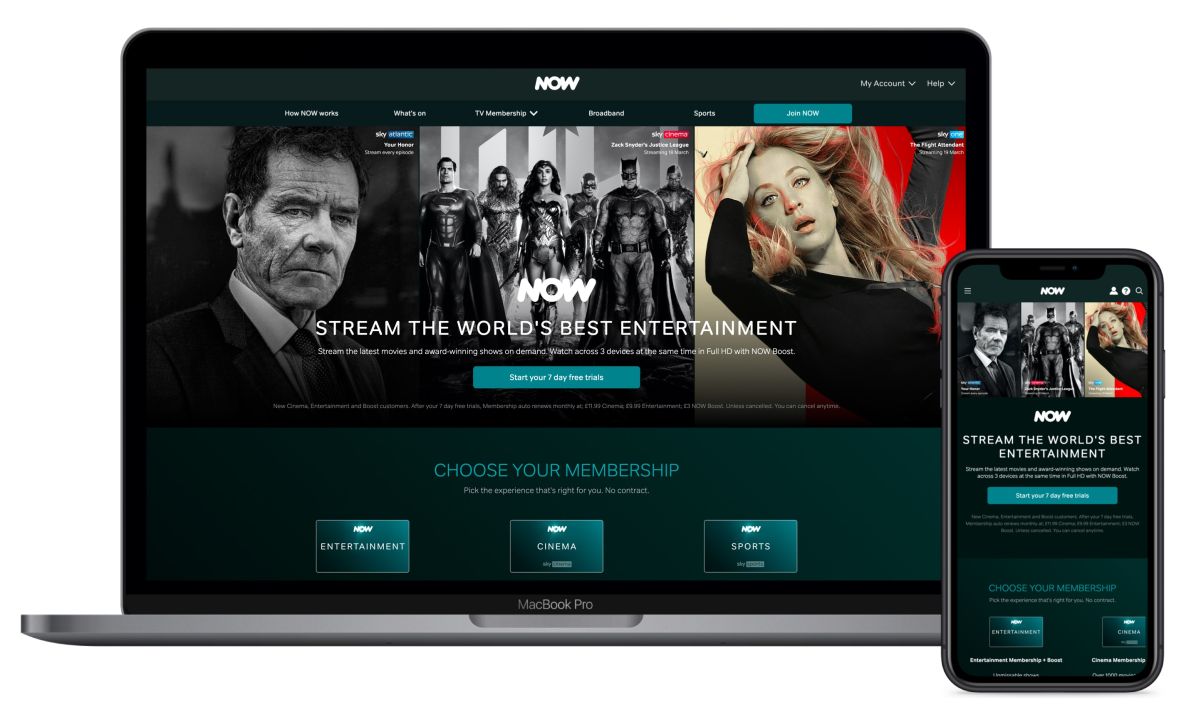 Another recent streaming solution from Sky, where you will find all the upcoming content, is their Streaming TV – Sky Glass. To learn more about it, see our in-depth Sky Glass review.
As always, more content may get added later in the month – but these are the main NOW and Sky highlights for March 2022:
TV Programmes Coming To NOW Entertainment And Sky In March
Somebody Somewhere
For all its vast plains and endless prairies, Kansas can feel confining for someone like Sam Miller. Inspired by the life of comedian and singer Bridget Everett, Sam (played by Everett) is a true Kansan on the surface, but, beneath it all, struggles to fit the hometown mould.
As she grapples with loss and acceptance, singing is Sam's saving grace and leads her on a journey to discover herself and a community of outsiders that don't fit in but don't give up.
Available to stream from March 1.
Murdered at First Sight
Most killers know their victims but recently there has been an alarming rise in 'stranger murders'. Last year 177 people were murdered by strangers in England and Wales and 1,372 in the US.
In this brand new true-crime series we'll see the shocking stories of people who were killed by someone they had never met before.
What was the victim doing? What led them down that deadly path? As we unravel each story, mystery surrounds the movements of the victim. Who else did they encounter that fateful day? Could it be the perpetrator?
Available to stream from March 2.
Death on the Beach
in 2015, Chrissie Annesley travelled to the paradise island of Koh Tao, Thailand on a trip of a lifetime. Two weeks later, she was found dead in her beach hut.
Chrissie joined the tragic roll call of numerous young travellers who have died under mysterious circumstances on this most remote of Thailand's islands.
Were their deaths from misadventure, or part of a series of violent murders? Now, with privileged access to Chrissie's family and the families of several other victims, we search for the truth behind the deaths on Koh Tao and ask what is really going on in paradise?
Available to stream from March 3.
JOE vs CAROLE
Based on the story that gripped the world, the intense and infamous rivalry between big cat enthusiasts Joe "Exotic" Schreibvogel (yes, the one from Netflix's Tiger King) and Carole Baskin is relived in this scripted limited series starring SNL's Kate McKinnon as Carole and John Cameron Mitchell as Joe Exotic.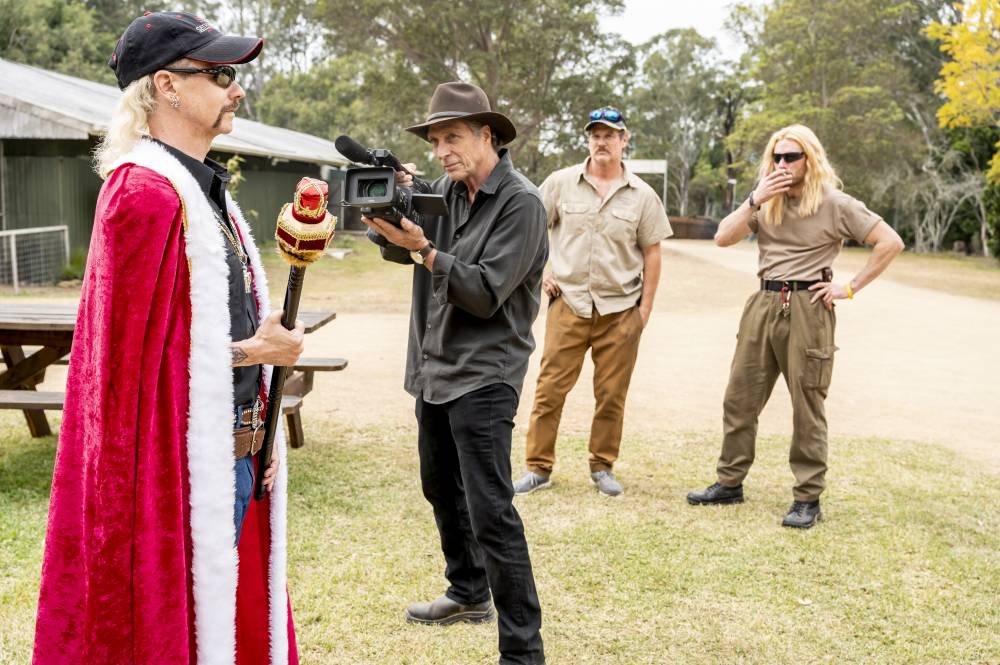 The story begins as Carole Baskin learns fellow exotic animal lover Joe Exotic is breeding and using his big cats for profit, and sets out to shut down his venture, inciting a quickly escalating rivalry.
But Carole has a checkered past of her own and when the claws come out, Joe will stop at nothing to expose what he sees as her hypocrisy.
All episodes available to stream from March 4.
The Dig Detectives (Sky Kids)
The Dig Detectives sees budding detectorists let loose on the nation's fields, hunting for hoards.
After their finds are dusted and analysed, they'll find out exactly what they're holding, where it came from, and of course… whether it's treasure!
Available to stream from March 4.
Mother Teresa: For the love of God?
Over three episodes, the documentary series Mother Teresa: For the Love of God? takes viewers on a remarkable ride through the twists and turns of an improbable life, revealing the extraordinary truth about one of the most recognised yet enigmatic, controversial, and complex figures in contemporary history.
Told through the multiple viewpoints from those who knew her best and drawing on archive and personal letters where we hear from Mother Teresa in her own words, this series tells the astonishing story of a latter-day Saint.
All episodes available to stream from March 9.
The Rising
When Neve Kelly discovers she's dead, she's scared and confused. But when she realises that she's been murdered, she becomes furious. Believing her killer is someone she knew; she's determined to get justice.
All episodes available to stream from March 11.
Bloods (Season 2)
Sky Original: BAFTA-nominated Samson Kayo and Golden Globe-nominated Jane Horrocks return as oddball dream team Wendy and Maleek, as we follow them and their paramedic colleagues in the life-saving world of a south London emergency service.
Series two welcomes a new source of conflict for Wendy and Maleek this time around in the form of Wendy's deeply irritating son, Spencer (Nathan Foad).
All episodes available to stream from March 16.
Funeral for a Dog
An international original drama from Sky Germany.
When journalist Daniel tracks down acclaimed novelist Mark Svensson at his hide-away home in Italy, he is immediately drawn into the mystery of Mark, his eternal love Tuuli and Felix, Tuuli's missing partner.
Daniel becomes entangled in their love triangle, a story that takes us from South-America, to the Arctic Circle to 9/11 New York, and a story that Daniel seems to know from Mark's bestselling novel. But something is wrong and as he digs deeper, he is about to make a shocking discovery.
Starring highly acclaimed and award-winning German talents Albrecht Schuch, Friedrich Mücke and Daniel Sträßer alongside Finnish shooting star Alina Tomnikov, Funeral for a Dog is a touching and epic drama about love and loss and the hopes and dreams of a generation.
Available to stream from March 18.
Raised By Wolves (Season 2)
Update: This was postponed to April.
The second season of Ridley Scott's epic sci-fi series.
Mother, Father and their six human children have joined a newly formed atheistic colony in Kepler 22-b's tropical zone. Navigating this strange new society is only the start of their troubles as Mother's 'natural child' threatens to drive humanity to extinction.
All episodes available to stream from March 23. April 6!
Super Greed: The Fight for Football
In April 2021, 12 of the most powerful clubs in world football attempted a bullish and brazen powergrab. Years of secret talks and backroom dealings culminated in a seismic late-night announcement – these dozen rivals were joining forces and breaking away from centuries of sporting tradition to launch a brand new competition that would secure their club's futures for decades to come.
The Super League created a fury of opposition from the entire football world and collapsed in just 48 hours.
This documentary tells the dramatic inside story of the doomed league through the eyes of those who helped to bring it tumbling down.
Available to stream from March 26.
Anyone Can Sing
Six discordant participants are put through their paces as their voices are transformed from screeching in the shower to singing like a soprano, proving that all of us can hold a tune.
The English National Opera's world-class vocal coaches – Nicky Spence, Sarah Pring and Michael Harper – will mentor the would-be singers throughout the process, giving masterclasses on everything from vocal technique to stage presence and setting them a series of musical challenges with the help of singing superstars such as Katherine Jenkins to take their singing to the next level – all in the space of three months.
Available to stream from March 30.
Update: The Flash Season 8 and DC's Legends of Tomorrow Season 7 were originally scheduled for March – but have been postponed.
Films Coming To NOW Cinema And Sky In March
Old (2021)
A chilling, mysterious thriller from the mind of M. Night Shyamalan.
While on holiday, a family discovers the secluded beach where they're relaxing for a few hours is somehow causing them to age rapidly, reducing their entire lives into a single day.
Available to stream from March 4.
The World to Come (2021)
In this powerful 19th century romance set in the American Northeast, Abigail (Katherine Waterston), a farmer's wife, and her new neighbour Tallie (Vanessa Kirby) find themselves irrevocably drawn to each other.
A grieving Abigail tends to her withdrawn husband Dyer (Casey Affleck), as free-spirit Tallie bristles at the jealous control of her husband Finney (Christopher Abbott), when together their intimacy begins to fill a void in each other's lives they never knew existed.
Available to stream from March 6.
Fast & Furious 9 (2021)
The 9th instalment of the popular film franchise, this time starring Vin Diesel, Michelle Rodriguez, Tyrese Gibson and more.
Dom Toretto is living off the grid with Letty and his son, but they know that danger lurks just over the horizon. That threat forces Dom to confront the sins of his past to save those he loves most.
Available to stream from March 11.
Malignant (2021)
The latest horror creation from Conjuring universe architect James Wan. Madison (Annabelle Wallis, Peaky Blinders) is a young pregnant woman trapped in a turbulent relationship.
When an episode of domestic abuse sends her to the hospital, she finds herself paralysed by shocking visions of grisly murders. Are these explicitly violent killings figments of Madison's troubled imagination?
Either way, someone, or better yet, something, links the past to the present, demanding closure and blood. Is the bogeyman real?
Available to stream from March 12.
North Hollywood (2022)
Sky Original: Michael (Ryder McLaughlin) attempts to answer the question every high school kid faces when they graduate: What's next?
Michael's best friends already seem to have it figured out; one is going to college, and the other is going to work, but Michael is caught somewhere in between.
He's an aspiring professional skateboarder with the talent to back it up, but his blue-collar father, Oliver (Vince Vaughn), thinks it's a pipe dream.
Pulled in various directions, Michael takes steps to build relationships with professional skaters in an effort to forge his own path. While this decision initially deepens the rifts in Michael's personal life, he ultimately gains the support and acceptance he needs from his loved ones – including his dad.
Available to stream from March 13.
Reminiscence (2021)
Nick Bannister (Hugh Jackman), a private investigator of the mind, navigates the darkly alluring world of the past by helping his clients access lost memories.
Living on the fringes of the sunken Miami coast, his life is forever changed when he takes on a new client, Mae (Rebecca Ferguson): a simple matter of lost and found becomes a dangerous obsession.
Available to stream from March 18.
People Just Do Nothing: Big in Japan (2021)
Big-screen spin-off for the popular BBC comedy series. Since the end of their pirate radio station, life has been quiet for the Kurupt FM boys, but everything is about to change. News reaches them that one of their songs has been used on a popular game show in Japan. They've made it.
Chabuddy G steps excitedly back into his management role as Grindah, Beats, Steves and Decoy begin their journey to international stardom – but is Japan really ready for Kurupt FM?
Available to stream from March 26.
Don't Breathe 2 (2021)
Set eight years after the violent home invasion of the first film, blind veteran Norman Nordstrom has successfully recreated the life that was stolen from him by taking in a beloved foster daughter, Phoenix.
Teaching her everything he knows about how to survive, they'll need all the skills available to them when Norman's past catches up with him and their home comes under siege.
No mere teenagers this time – these are heavily armed mercenaries with a vendetta. But they're still walking into the dark – and the darkness is both Norman's home and greatest weapon.
Available to stream from March 27.
Coming To NOW Sports and Sky Sports in March
Premier League (Stream Live)
It's the business end of the season and the big matches just keep coming. Can Manchester City seal the deal? Will Newcastle beat the drop? The title, the Champions League, and survival are all up for grabs.
FA Women's Super League (Stream Live)
Chelsea will be fighting to retain the title, while Manchester United and Tottenham aren't far behind. It looks like we might just get a title race to round out a thrilling WSL campaign.