Up until a couple of years ago, NOW TV's app was only available on a limited number of devices. Things have improved, thankfully, and now another barrier has been broken, with NOW TV's app coming to select Sony TV models – namely the ones that have the Android TV OS.
According to NOW TV, this brings the number of supported devices to over 60.
NOW TV is Sky's answer to Netflix – a streaming service that doesn't require a lengthy contract and gives you flexible packages ("passes") of content that can be watched on a variety of streaming devices and smart TVs.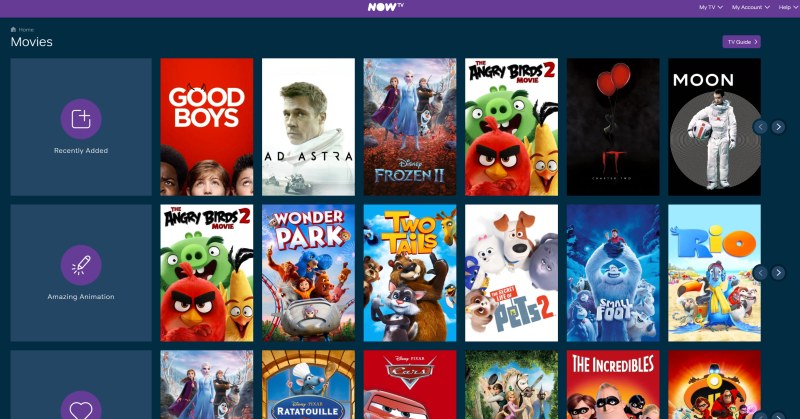 The passes include the Entertainment Pass (£9.99 p/m) for TV shows, the Cinema Pass (£11.99 p/m) for movies, the Kids Pass (£3.99 p/m) for children's content, and the Sky Sports Pass (£33.99 p/m or £9.99/day) (See our full NOW TV review here).
Sony's Android TV models come with the Google Assistant, Google Play Store and Chromecast built-in. Therefore, it was already possible to watch NOW TV on these tellies by "casting" NOW TV from your mobile phone.
But now, users will get easier access to the content, with an on-screen interface, similar to how NOW TV is used on set-top streaming devices.
The NOW TV app will be available on these Sony Bravia TV models:
2020 models: A8 / A9 / XH80 / XH81 / XH85 / XH90 / XH91/ XH92 / XH95 / ZH8
2019 models: AG8 / AG9 / XG80 / XG81 / XG83 / XG85 / XG87 / XG90 / XG95 / ZG9
2018 models: AF8 / AF9 / XF75 / XF80 / XF83 / XF85 / XF90 / ZF9
2017 models: A1 / XE80 / XE83 / XE85 / XE90 / XE93 / XE94
2016 models: SD80 / XD70 / XD75 / XD80 / XD83 / ZD9
To download the app, simply head to the Google Play Store on your Sony TV. And if you're wondering what to watch – here's what's coming to NOW TV next month.