Freesat, the satellite-based Freeview equivalent, has announced the release of four new Ultra HD (4K) TV boxes, with "third-generation" advanced features, recording capabilities, and broadband-based streaming apps.
The basic box (not the recording ones) is already available to order.
Freesat, a joint venture between the BBC and ITV, offers more than 200 free-to-air TV channels and radio stations, all transmitted via digital satellite. It currently reaches 2 million homes in the UK.
While similar to Freeview, Freesat was created as a solution for places where standard aerial reception is lacking.
Instead of having to rely on aerial transmitters, you just point your small roof-top satellite dish to the sky, connect it to a tuner inside the house, and you're good to go. (Some can also use their old Sky dishes for Freesat, though they sometimes require retuning)
Because of the wider bandwidth, Freesat can offer more channels than Freeview – 20 of which are in HD.
Freesat PVRs were practically unavailable for new users in the past few months, ever since Humax stopped manufacturing the previous generation of Freesat recorders. (Also see our round-up of the best Freesat boxes available).
Now, after a long wait, the new boxes – manufactured by "Commscope", will soon be available for preorder from Amazon (with an arrival date around the beginning of March), and will later be available on Currys as well.

All the new boxes feature a collection of catch-up streaming apps (similar to what's on FreeviewPlay), such as BBC iPlayer and ITV Hub, as well as Netflix and YouTube.
The boxes' Electronic Programmes Guide can be used to 'go back in time' and play a show that aired up to 7 days back – via its corresponding channel app.
The new Freesat boxes now support Ultra HD (4K), though keep in mind that for now, there are no over-the-air 4K broadcasts in the UK – instead, you can only use that feature for 4K content on Netflix and YouTube (and the occasional BBC iPlayer 'experiment').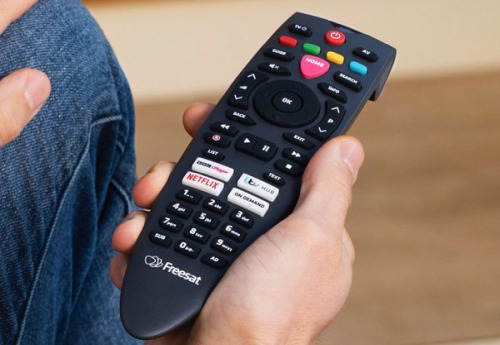 Additionally, customers will be able to use the Freesat Mobile App to control their set-top boxes, and set recordings and reminders on the go (a feature that was recently removed from YouView, sparking outrage).
The four boxes are differentiated by their recording capabilities – and storage space:
The Freesat 4K TV Box is a Freesat player with streaming apps, but without any recording capabilities Pre-order it here.
Freesat Recordable 4K TV Box 500GB – Can also be used to record up to four different programmes at the same time, as well as Pause and Rewind live TV. With 500GB, you can record up to 250 hours of content. Pre-order it here. (Update: Ordering should be available again soon)
Freesat Recordable 4K TV Box 1TB – Same features as the 500GB box, with the space to record up to 500 hours of content. Pre-order it here. (Update: Ordering should be available again soon)
Freesat Recordable 4K TV Box 2TB – Record up to 1,000 hours of content. (Ordering should be available again soon)
"We're delighted to introduce the next generation of set-top boxes", said Alistair Thom, Managing Director of Freesat. "Our customers have told us that they want a solution that combines the best of free to air and On-Demand services.
"That's why we've developed our new 4K boxes, which allow our customers to curate all their entertainment favourites in one place whenever they want, without paying through the nose."