The UK is probably one of the best countries in the world for TV cord cutters – with Freesat, Freeview and YouView, it's easier than ever to watch plenty of free channels, without any subscriptions.
Freesat is the satellite-based free TV solution. As such, it often offers the best reception, and best of all, you're not relying on questionable signals in your area, but get your TV straight from… space. So if you've been struggling with Freeview reception and problematic aerials, Freesat might be the answer for you (plus, it offers more channels than Freeview.)
In this article, I'll take a look at the things you need in order to watch Freesat, things to consider before you buy a Freesat box, and I rate the best Freesat boxes and recorders (PVRs).
Best Freesat Boxes 2019: Our Picks
Excellent picture quality, easy recording and lots of features from one of the top manufacturers
High-quality Freesat box, excellent value for money, but no recording capabilities
Great picture quality, easy setup, but a bit slow and without recording capabilities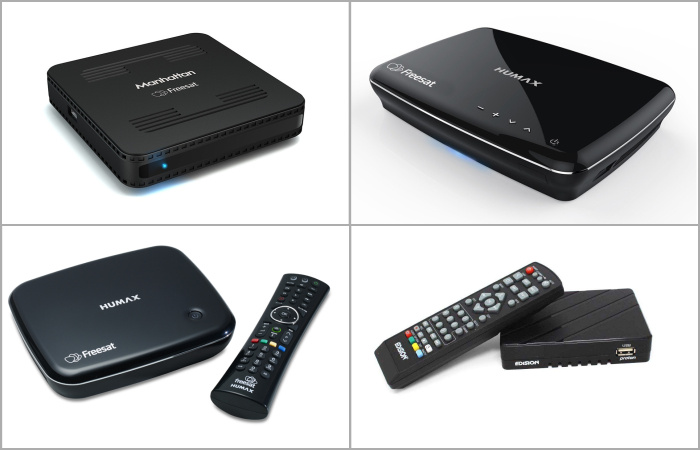 What Is Freesat?
Freesat is a joint venture between the BBC and ITV, that's been around since 2008. It offers more than 200 free-to-air TV channels and radio stations, all transmitted via digital satellite.
While similar to Freeview, Freesat was created as a solution for places where standard aerial reception is lacking. Instead of having to rely on aerial transmitters in your area, you just point your small satellite dish (usually placed on the roof) to the sky, connect that to a tuner inside the house, and you're good to go. (There are some rare cases when your house might be blocked from facing the right direction in the sky.)
Because of the better reception and wider bandwidth, the Freesat service can offer more channels than Freeview – 20 of which are in HD. Those channels come with an easy to use Electronic Programme Guide (EPG), which shows you the TV schedule for up to 8 days in advance.
Additionally, some Freesat boxes also offer apps for the standard streaming services such as BBC iPlayer and ITV Hub – though you get these via your broadband connection, and not through the satellite.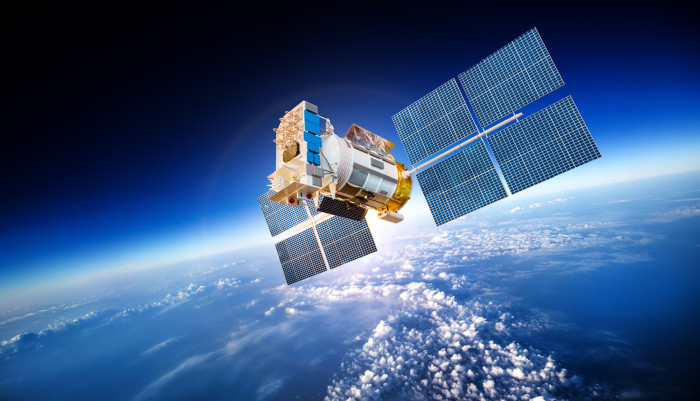 How Do I Set Up Freesat And What Do I Need?
In order to be able to watch Freesat, you need two main components:
1. A Satellite Dish: You need a dish on the roof, which will receive the transmissions from the satellite up in space. If you have an old Sky dish you might be able to use it even if you're no longer subscribed to Sky. Otherwise, you will need to buy and install your own dish.
You can either buy a dish yourself (on Amazon for example) and then arrange an installation separately, or you can arrange an installation along with your purchase, in chains such as Currys.
Keep in mind that if you live in a rented property, conservation area or a listed building, there may be restrictions on installing satellite equipment.
2. A Freesat Tuner – The satellite dish needs to connect to a device in your house, which will translate the signals and pass them on to your telly (usually via an HDMI cable.)
You can either use a set-top Freesat box, as the ones I review in this guide, or you can get a telly with a Freesat tuner built-in – Amazon offer some very good ones from LG, Samsung and Panasonic. (While All TVs manufactured and sold in the UK since 2010 should have a Freeview tuner built-in, that's not the case with Freesat.)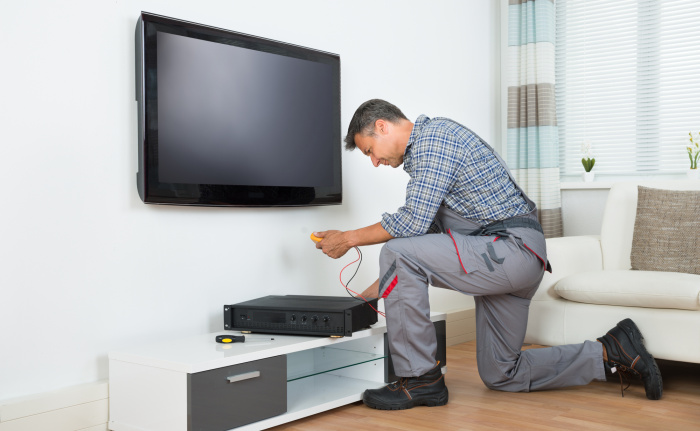 f you're looking to use your Freesat box as a Personal Video Recorder (PVR) and record programmes, and if you plan to use streaming apps like BBC iPlayer, you'll also need to connect your Freesat box to the internet – either by WiFi, or with an Ethernet cable to your router. (If your TV is not in the same room as the router, you can use a Powerline Adapter – see my reviews here.)
Freesat VS. Freeview VS. YouView – What's the difference?
I've mentioned Freeview already, but there's also YouView, and they're both different from Freesat… Confused? Don't be.
Freeview: Operated by a joint venture of the BBC, Sky, ITV, Channel 4 and Arqiva, Freeview provides access to almost 100 free, over-the-air channels and radio stations. To get it, you need an aerial – either one on your roof, or a cheap indoor aerial – and a Freeview tuner – either one built-into your TV, or a set-top box one which also offers recording capabilities. Read my full Freeview Guide right here.
YouView: A "hybrid" service that combines over-the-air Freeview channels, and catch-up TV streamed to you via your broadband connection. Some YouView boxes also offer additional pay-per-view channels and programmes, but with many Freeview boxes also offering catch-up TV these days (with FreeviewPlay), the two services have become almost identical. As with Freeview, you'll need an aerial for the reception – and you'll also need a broadband connection (WiFi or Ethernet) for the catch-up services.
The main difference between Freesat and Freeview/YouView is the reception – in most cases, you'll get better reception with a satellite dish than with an aerial (especially when compared to a small, indoor aerial.) The downside, however, is that you need a satellite dish installed on your roof.
One more thing to consider, is that Channel 4 unfortunately removed their HD channel and their catch-up app from the Freesat service this year, due to cost disputes.
How To Buy The Best Freesat Box: Things To Consider
There aren't a lot of good Freesat boxes out there – but there are still distinct differences between the ones that are available – both in features and cost.
PVR And Recording
Some Freesat boxes come with a built-in hard drive, allowing you to record TV programmes for later viewing (and you can record one programme while watching another one on a different channel). Conveniently, you can also use the EPG (Electronic Programme Guide) to choose future-programmes to record, so you'll never miss your favourite shows.
If you mostly use the streaming TV apps (such as BBC iPlayer and the ITV Hub), you might not need a recording box – but keep in mind that most of the UK streaming apps are catch-up services, and the programmes expire after a set number of days (30 days with the BBC iPlayer, for example).
If you are planning to record live TV shows, you also need to choose how much storage space you want your Freesat box to have, as that will determine how many hours of TV you can record.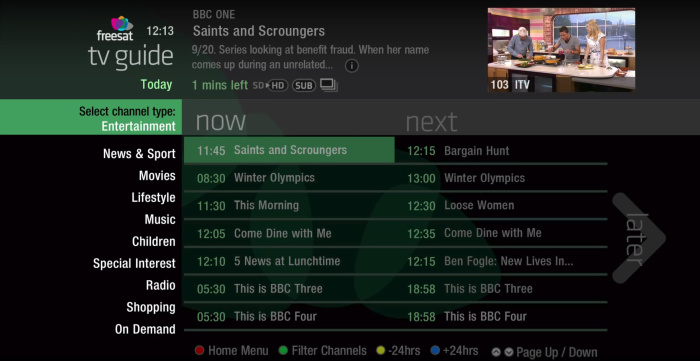 Freesat Freetime – 7 Day Rollback
Some boxes support Freesat's "Freetime" catch-up service, which lets you use the EPG to watch programmes that aired during the last 7 days (on 26 specific channels).
Additional Apps
As mentioned, some Freesat boxes can also be used as internet streamers, in which case you'll want them to have the relevant apps. Some boxes also have a Netflix app built-in, which will prevent the need to get another streaming box just for Netflix.
TV Connections
All Freesat boxes come with an HDMI connection, but if you have an older telly, you might need a SCART connection instead – so check if the box you're looking to buy has one.
Freesat With Broadband Connection
If you want to record programmes and use the streaming apps, you'll also need to connect the Freesat box to the internet. Some boxes come with an Ethernet port, which you connect directly to your router, and some also come with a WiFi connection. Connecting via an Ethernet cable is usually more stable and provides better speeds – but if you're telly is not next to your router, you might still want to consider WiFi.
Cord Busters' Best Freesat Boxes 2019
Recording: 500GB, 1TB or 2TB
Apps: BBC iPlayer, ITV Hub, Netflix and more
Freesat App: Control the device via your phone
Freeesat Rollback: Catch-up on last 7 days ("Freetime")
Broadband Connections: Ethernet, WiFi
TV Connections: HDMI, Composite
You usually can't go wrong with a Humax set-top box for your TV, and the HDR-1100S clearly shows why – it's an excellent Freesat box, with top notch HD picture quality, useful apps, and easy to use recording capabilities.
This box is very similar to the HB-1100S, with two major differences – it has a built-in hard drive, and TWO LNB ports (meaning two connections to the satellite dish), so you can record two different channels at the same time.
The basic hard drive is 500GB – that will give you 120 HD recording hours. If you need more, you can get the 1TB model, which provides 250 HD recording hours. And there's even a 2TB model, with 500 HD recording hours.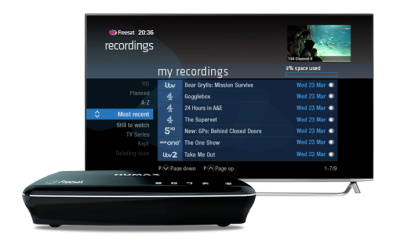 Setting up the HDR-1100S is very easy, and the Freesat EPG is a joy to use. It offers a 7-day catch-up service, allowing you to watch previously aired programmes from 26 channels. Of course, you can also choose programmes to record via the EPG, and those will remain on your hard drive indefinitely (until you delete them).
The device also comes with a useful bunch of apps, such as BBC iPlayer, ITV, Netflix, YouTube and several others. As is often the case, there are no Amazon Prime Video or NOW TV apps as of this writing. Additionally, you can use the HDR-1100S to stream content (music, photos and video) from your home computer, via WiFi.
The only downside? The price. It's not overly expensive, but not cheap either – so your main question should be whether you need the recording capabilities or not. Other than that, this is an excellent device for serious Freesat usage.
Best value for money but no recording.
Recording: No
Apps: None
Reminders: Set a reminder for a show on the EPG, and the box will turn on automatically
Broadband Connections: Ethernet, WiFi (But only for software updates)
TV Connections: HDMI (SCART and RCA with supplied AV kit)
If you're after a basic Freesat box that can show you all the channels in excellent quality but doesn't have recording or catch-up capabilities, then the Manhatten SX represents the best value for money.
What it does, it does very well – the EPG guide is easy to use and pretty swift (compared to some other Freesat boxes), it has a nifty "Reminders" feature that will let you choose an upcoming show – and the box will turn on automatically when the show starts, and it even has SD upscaling for better picture quality with SD channels.
As mentioned, there are no PVR capabilities (you can't even record on a USB stick – the USB port is only for software updates), and there are no apps or catch-up services – the broadband connection are there, again, only for software updates.
But if you don't need the more advanced features – this high-quality box comes at an impressive price point.
Recording: Via USB
Apps: BBC iPlayer, ITV Hub, Netflix and more
Freesat App: Control the device via your phone
Freesat Rollback: Catch-up on last 7 days ("Freetime")
Broadband Connections: Ethernet, WiFi
TV Connections: HDMI, Composite
Humax are a well known brand in the world of TV set-top boxes, and for good reason. This Freesat box is an excellent player: it comes packed with features and apps, the picture quality and reception is top notch, and the interface is easy to use (though annoyingly slow.)
The main difference between this player and our Editor's Choice (other than the price), are the recording capabilities – the HB-1100S doesn't come with a built-in hard drive, and while you can connect an external one via USB, if you're planning on using it frequently as a recorder, you're better off with the HDR-1100S.
Setting this box up is a breeze once you connect it to your satellite dish, and the Freesat EPG is a joy to use. it also offers a 7-day catch-up service – you select programmes that aired during that time, via the EPG, and you get to magically watch them – it's like your very own PVR in the cloud (but only for 7 days, and only on 26 channels at this time.)
The device also comes with a useful bunch of apps – from UK channels (such as BBC iPlayer, ITV, and Channel 5), to Netflix and YouTube and several others. Alas, as is often the case, there are no Amazon Prime Video or NOW TV apps as of this writing.
So while the HB-1100S costs a little more than the more basic boxes on this list, it's better in a whole lot of ways, and should at least be your main living-room box (as long as you don't do a lot of recording.)
Recording: Only via USB stick
Apps: None
Freesat Rollback: None (Only what's on NOW/NEXT)
Broadband Connections: None
TV Connections: HDMI
This is a basic, bare-bones Freesat box, that does its job (though with fewer features), and has one thing going for it – it's very cheap.
There are no apps and no internet connection in this box – you only get the Freesat channels (and it's also compatible with some of the European satellite channels, in case you travel with it). It doesn't have a built-in hard drive, but you can use a USB stick to record and time-shift programmes. 
Unfortunately, it doesn't support the full 7-day EPG – it will only show you the name of the programme you're watching right now, and the next one.
If you're only interested in getting the free channels, without a lot of fanfare, this is a solid, cheap box.