Disney's much-anticipated streaming service, Disney+, is launching in the US (and a few other countries) on November 12, while UK viewers have to keep waiting… and waiting…
Well – at least now we know how long we'll have to wait, as Disney confirms the service will reach our side of the pond on March 31, 2020.
Disney+, which was announced back in April, is a streaming-only service which is meant to be a major Netflix competitor.
With new Star Wars and Marvel shows, The Simpsons, and the entire Disney Films back-catalogue, the service will pose a big threat to the other existing streaming services, and will even cost less than Netflix, at $6.99/month, or $69.99 a year.
During a Quarter 4 earnings call on November 7, Disney's CEO, Bob Iger, confirmed Disney Plus' expansion to Europe, as it will launch in the UK, France, Italy and Spain on March 31, 2020. UK pricing has not been announced yet, but we can assume it'll be around the £6.99 mark, or hopefully £5.99.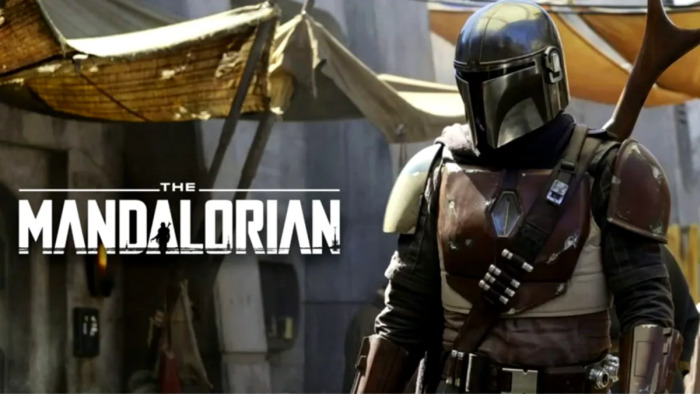 Disney+ will include several new and exclusive TV shows from day 1, including The Mandalorian, a live-action Star Wars series. While the series is going to be released week-to-week from November 12, the late UK arrival means all episodes will be out by the time we get it.
Furthermore, Disney+ will include new TV shows set in the Marvel cinematic universe – one starring Tom Hiddleston as Loki, another one revolving around The Falcon and The Winter Soldier, and another based on the Hawkeye character, with Jeremy Renner reprising his role.
All the Marvel films will also be available on the new service.
.@DisneyPlus will be available in the United Kingdom, Germany, France, Italy, Spain (and more to be announced soon) starting on March 31. Please note: Titles may vary by territory. #DisneyPlus pic.twitter.com/2NqM1JVESb

— Disney (@Disney) November 7, 2019
Disney+ will be entering a very crowded streaming market in the UK. Other than the long-running Netflix, Amazon Prime Video and NOW TV (which currently holds many of the Disney properties), the past weeks saw the launch of Apple's new streaming service, Apple TV+, as well as the new British TV streaming service – BritBox.
Disney+ Coming To More Devices
During the earnings call, Disney also announced that Disney+ will be available on a long list of streaming services from day 1 in the US – so we can assume they'll be available in the UK as well, once the service arrives.
On launch day, Disney+ will be available to stream on:
Amazon Fire TV
Roku
Apple TV
Android Phones / Tablets
iOS Phones / iPads
PS4/XBOX
Chromecast
Smart Samsung and LG TVs
25% Of UK Consumers Plan To Subscribe To Disney+
Meanwhile, despite the long wait, 25% of UK consumers already say they plan to pay for Disney+, according to a new survey conducted by VPN company ExpressVPN in October 2019.
Comparatively, only 16% of UK consumers said they plan to subscribe to Apple TV+, which might be explained by Apple TV Plus' tiny library of content, as of now.
Additionally, 60% of UK consumers said they plan to keep their existing video streaming subscriptions (Netflix, Amazon Prime Video and NOW TV) even after the launch of Apple TV+ and the eventual launch of Disney+.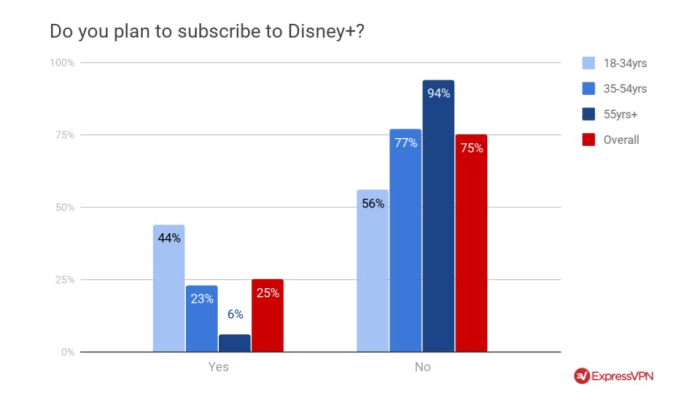 Once you look at the age groups of the respondents, however, things change. Of the UK "Millenials" (18-34) 44% plan to subscribe to Disney+, while only 6% of the 55+ age-range plan to do so.
It's important to remember, however, that once Disney+ actually launches in the UK, it will probably be accompanied by a massive marketing campaign, which will most likely change these numbers.
"For now at least, Netflix remains the streaming king but it will have to work hard to retain users in the face of new competition with huge war chests and existing ecosystem advantages", said Harold Li, vice president, ExpressVPN, in response to the survey results.
"To maintain its lead, Netflix may have to reconsider how it offers different content libraries in each market, particularly given that Disney's unique advantage of owning a significant volume of original movies and shows means it is more likely to be able to offer content with fewer geographical restrictions."
Netflix (and most other streaming services as well) is notorious for offering different content libraries in different countries, because of rights issues. It remains to be seen how Disney+ will tackle that problem – which is one of the reasons it has to wait until March 31, as some of its shows and movies still belong to other TV services in the UK.
Companies like ExpressVPN, actually help viewers jump over some of those geographical streaming restrictions, though at a monthly/yearly cost.