The UK version of BritBox, the streaming service owned by ITV and the BBC, is now available for just 99p/month, for up to three months, thanks to a limited-time Black Friday deal.
With BritBox normally costing £5.99/month, this is a major discount for both new or returning customers – but there are two caveats.
The special deal is only available if you get BritBox via Amazon's Prime Video Channels – and not directly on the BritBox website or app.
Also, the offer ends November 29, so you can only sign up at the discounted price until then (see the full details below).
BritBox UK (There's also a US version, but that one's a whole different beast) is a streaming subscription service that curates British TV programmes from ITV, BBC, Channel 5 and Channel 4, as well as classic British films.
Some of its content highlights include the new (and old) episodes of Spitting Image, 600+ episodes of the classic Doctor Who, and a few BritBox originals, such as The Beast Must Die, a five-part revenge thriller starring Jared Harris and Cush Jumbo (See our full BritBox Review).
BritBox normally costs £5.99/month, after a free trial (usually 7 days, though sometimes there's a 30-days free trial offer) for new customers.
BritBox is available either as a standalone streaming service – which you subscribe to and watch directly via BritBox' website or its many apps (on streaming devices, smartphones and some Smart TVs), or as a Prime Video Channel.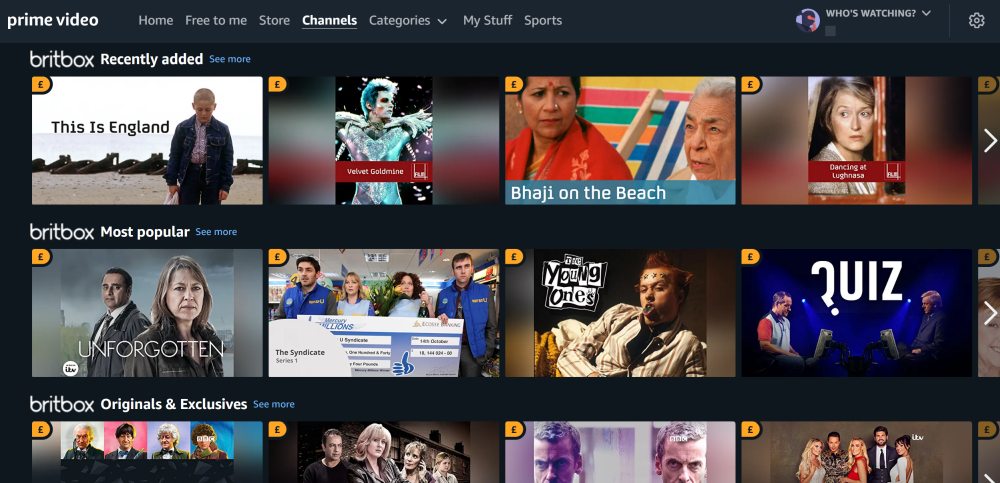 Prime Video Channels are an add-on to your Amazon Prime Video subscription. They launched in the UK back in 2017, and the list of available channels has been growing since.
Since they're an add-on to Prime, you must have an active Amazon Prime subscription first (or Prime Video), and then you can add the channels on top of that – which means you can't get their BritBox channel without also having Prime (But you can get a free 30-days trial of Amazon Prime).
Since the Prime Video app is available on almost every streaming device in the UK, including Roku, Smart TVs and SOME Freeview boxes (such as the Humax Aura), this means that BritBox is now available on a much wider list of devices.
BritBox For 99p/month – The Small Print
From now until November 29, Amazon is offering several of its premium channels at a discounted price of 99p/month – and that includes BritBox.
You can keep BritBox at the reduced price for up to 3 months, though you can cancel at any point before that, if you don't want to continue beyond the first month.
Remember, though, that if you don't cancel the subscription at the end of the three months, your subscription will continue at the normal rate of £5.99/month.
And again, remember that by subscribing to BritBox via Prime Video, you will only be able to watch BritBox via the Prime Video app. However, the content library is identical to that of the "standalone" version of BritBox.
The offer is available both to new and returning customers, but the price won't be reduced for you if you're already an existing customer.
If you're an existing customer directly with BritBox – and not through Prime Video – you can technically sign up to this deal – but you'll have to cancel the direct BritBox subscription, otherwise you'll be paying twice for the same service.