With so many streaming services available these days, and so much content on each of them – finding the good stuff to watch can get tricky.
Luckily, Netflix UK has a lot of great content, both TV shows and movies. In this roundup, we'll focus on TV, and I'll recommend some of the best shows to binge-watch as you're looking to pass the time – from comedies to drama, action – and even thrillers, in case the news isn't thrilling enough for you.
Some of these aren't necessarily "the greatest shows in the history of TV" (though some are!) – but, more importantly, they're all fun shows to binge on and pass the time.
All the shows listed here were available on the UK version of Netflix (which is different from the American Netflix version) at the time of writing – but the Netflix catalogue changes occasionally.
Happy Binging!
Best Netflix UK Comedies
1. It's Always Sunny In Philadelphia
The word "Sitcom" doesn't quite fit this whacky, no-holds-barred American comedy TV show. Starring Rob McElhenney, Glenn Howerton (both of whom also created the show), Charlie Day, Kaitlin Olson and Danny DeVito, the show follows a series of "friends" who run a bar in Pennsylvania.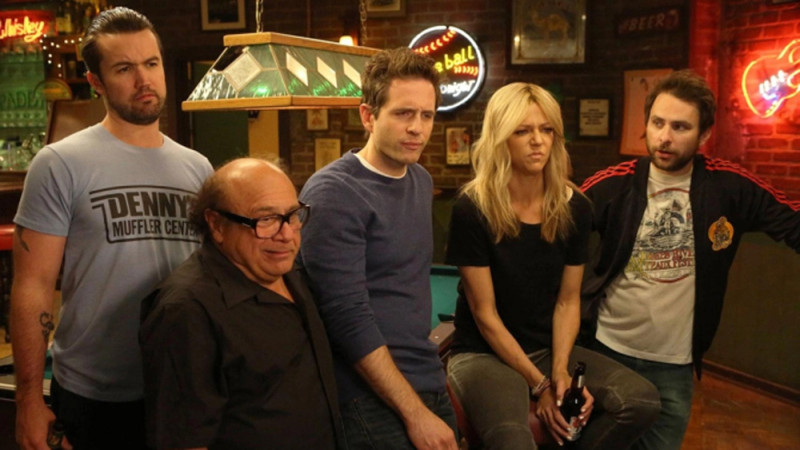 It's one of the most Politically INCORRECT shows out there (at least in American standards), and if you're offended easily you should probably look elsewhere – but the situations they all get into, and their hilarious hate for everything, well, human – is sometimes mind-boggling – and very funny.
Average Episode Length: 20 minutes
Number of Seasons on Netflix UK: 14
2. The Good Place
Another "crazy" American comedy which often breaks the mould of what a "Sitcom" used to be. The series follows Kristen Bell's character – a woman who dies and reaches the afterlife ("the good place"), where she meets Michael (Ted Denson), who welcomes her to a place that looks a whole lot like heaven.
Things start to go wrong, however, when she discovers she got there by mistake…
The Good Place, which ended its run last year after four seasons, will keep you on your toes with its many surprising twists and turns – but it's also very, very funny.
Average Episode Length: 22 minutes.
Number of Seasons on Netflix UK: 4
3. Derry Girls
Now for some comedy from our side of the pond – Ireland, to be exact. This bitter-sweet comedy originally aired on Channel 4, and if you missed it, you can catch-up on the first season (there were two so far, with a third coming up later this year).
The show, which is set in the 90's, follows four teenage girls – and one boy – who attend a Catholic girls' secondary school (yes, the boy too). While a bit vulgar, all the characters are truly sweet, and among the gentle political satire, you'll also find yourself laughing quite a lot.
Average Episode Length: 22 minutes.
Number of Seasons on Netflix UK: 1.
4. Unbreakable Kimmy Schmidt
Moving back to the US, this "Netflix Original" became an instant classic when it premiered in 2015.
Created by Tina Fey (who also pops up for a guest role here and there) and starring Ellie Kemper and Tituss Burgess, the show tells the story of Kimmy Schmidt, a young woman who was rescued from an underground (literally) cult where she and three other women were held by a crazy Reverend (Jon Hamm) for 15 years.
As she learns how to cope in the real world, Kimmy moves in with a struggling actor – Titus Andromedon.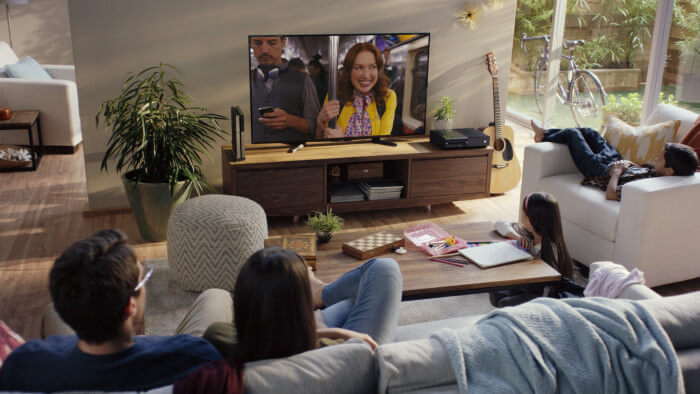 The first two seasons are probably the best, as things got a bit tired in the last two – but the show is generally hilarious, with Titus often stealing the spotlight.
Average Episode Length: 25 minutes. (Gets a bit longer in later seasons)
Number of Seasons on Netflix UK: 4 (An "interactive special" is coming in 2020).
5. Conan Without Borders
Part documentary, part travel show and part comedy special, this series (or rather a series of "Specials") stars American talkshow host Conan O'Brien, as he visits various places around the world.
Each episode is dedicated to a different country – Cuba, Korea, Israel and others. Conan visits tourist attractions, as well as very non-touristy spots, and talks with interesting – and sometimes weird – locals.
While not strictly a comedy, this is still Conan we're talking about, so you'll find yourself laughing out loud, while you learn a thing or two about faraway places.
Average Episode Length: 41 minutes.
Number of Seasons on Netflix UK: 1 (Currently 6 episodes).
Best Netflix UK Sci-Fi/Fantasy Shows
6. Star Trek
Star Trek needs no introductions, as it's been with us since 1966. Still, the franchise has made a wonderful comeback in recent years, first with the new J.J. Abrams movies, and then with Star Trek: Discovery and Star Trek: Picard.
Luckily, you can find almost all the Star Trek shows on Netflix UK (except for Picard, which is on Amazon Prime Video) – Star Trek: The Original Series, Star Trek: The Next Generation, Star Trek: Deep Space Nine, Star Trek: Voyager, Star Trek: Enterprise and Star Trek: Discovery.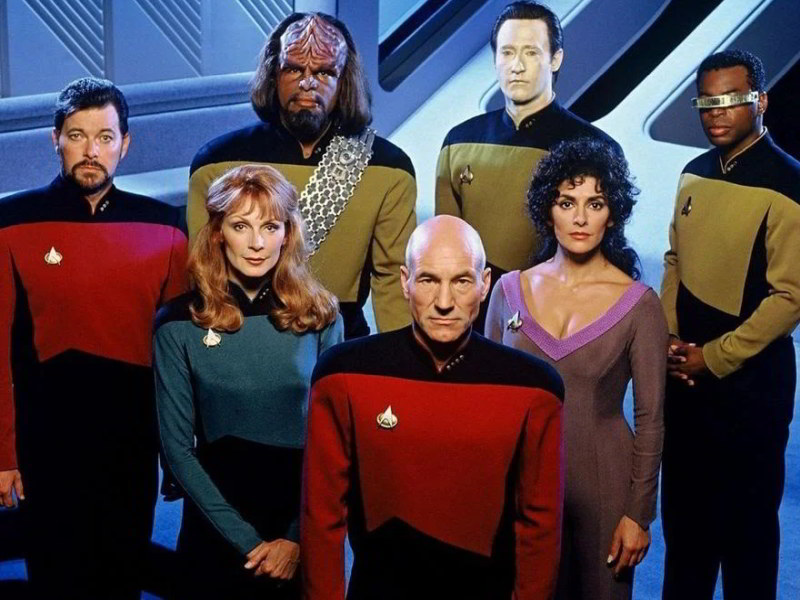 Whether you want to binge a season (or even a full series) you missed, or just watch a stand-alone episode here and there, most Star Trek episodes really do stand the test of time, even if the things look technically outdated at times.
Average Episode Length: 45-50 Minutes.
Number of Seasons on Netflix UK: A lot!
7. The Witcher
Moving from hardcore science fiction to hardcore fantasy, The Witcher was supposed to be Netflix' answer to Game of Thrones. While not quite at that level, the show stars Henry Cavill, in a role that seems to have been created purposefully for him – a brooding warrior who doesn't speak much, and has amazing abs.
Based on a series of books by Andrzej Sapkowski (as well as a successful video game series), the show does get silly at times, and definitely gets confusing with plenty of characters and timelines, but it's ultimately quite enjoyable.
With magic, sword fighting, monsters and – of course – sex, you'll binge the first season pretty quickly, at only 8 episodes. (Season 2 is coming – at some point).
Average Episode Length: 60 Minutes.
Number of Seasons on Netflix UK: 1. (8 Episodes)
8. Love, Death + Robots
An anthology Science Fiction animated series that's built around 18 stand-alone episodes, each created by a different crew with a different animation style.
The stories are all science fiction/fantasy based, but don't let the animation fool you – this is very much an adult show, with adult themes and even (animated) nudity.
The episodes are not connected, so you can watch them in any order, and while some are better than others, they're all easy to digest, being under 20 minutes long. Some are funny, some disturbing, and some make you think.
Average Episode Length: Under 20 minutes.
Number of Seasons on Netflix UK: 1 (18 episodes).
9. Black Mirror
Another anthology series (where each episode stands on its own), Black Mirror, created by Charlie Booker, started its life on Channel 4, where the first two seasons aired. Then, the show was bought by Netflix, and seasons 3-5 were produced as Netflix Originals.
The episodes usually take place in the near future, and deal with technology and its effects on human society. While the stories and themes are different each time, the general atmosphere is quite bleak – so keep that in mind, in case you're already feeling disturbed and terrified by these turbulent times.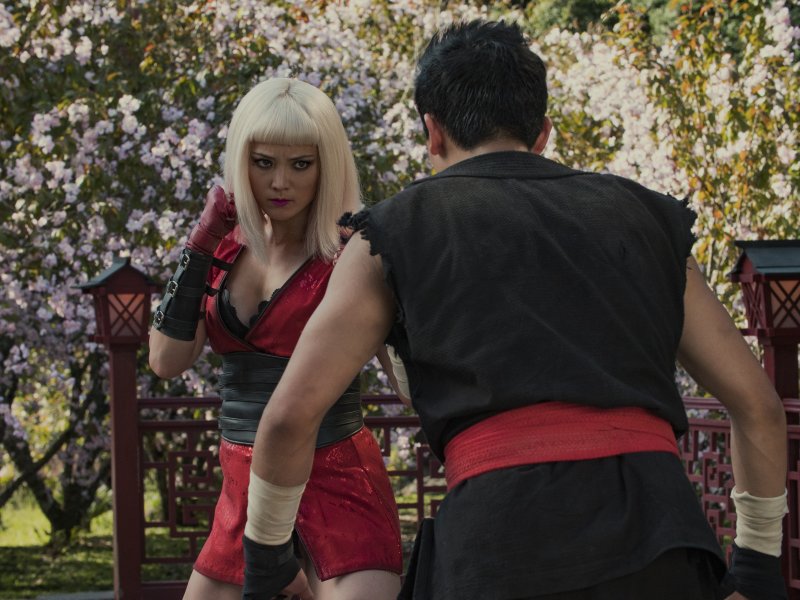 Some episodes are exemplary and thought-provoking, while others feel like a clever "twist" was spread too thin over a 60-minutes episode, but all in all, this is a very unique series.
Average Episode Length: 45-60 Minutes.
Number of Seasons on Netflix UK: 5.
10. Timeless
An American time-travelling Science Fiction show that ended before its time (no pun intended), but was great while it lasted (for only two seasons).
Created by a superstar team of Shawn Ryan (who created The Shield) and Eric Kripke (who created Supernatural), Timeless is about an unlikely group (a soldier, an engineer and – of course – a history professor) that has to go after a criminal who's trying to rewrite American history.
Most of the episodes are stand-alone, time-travel-story-of-the-week type of episodes, though there's also a long-running arc of dealing with a mysterious organisation who controls… everything.
The best part about the show, is that it often puts a spotlight on forgotten characters from history (often minorities), people who were there, and made a difference – without really being remembered enough.
Timeless was cancelled after two seasons, but thanks to a campaign by the fans, we got a double-episode special that tied all the loose ends.
Average Episode Length: 41 minutes.
Number of Seasons on Netflix UK: 2.
11. Once Upon A Time
A fantasy series created by Edward Kitsis and Adam Horowitz, who were also writers on Lost. The show follows the lives of former-fairytale characters who were transported (by magic, of course) into the real world, and are living in the very real (but fictional) Storybrooke, Maine.
With characters from famous fairytales (Snowwhite, Prince Charming, The Evil Witch) and famous Disney properties (Frozen!), this is truly a show for the whole family, and definitely not just for kids.
On Season 7, the show went through a very unsuccessful "Reboot", which ended with the show being cancelled. You can safely skip most of the seventh season, but do come back for the satisfying series finale.
Average Episode Length: 43 minutes.
Number of Seasons on Netflix UK: 7.
12. Stranger Things
Unless you were living under a rock, you've probably heard of Netflix' Stranger Things. But if you haven't watched it yet, you can happily binge the first three seasons – with season 4 (the last one) coming at a later date.
The show, which combines science fiction with fantasy and some coming-of-age horror, is set in the 80's, in the fictional town of Hawkins, Indiana.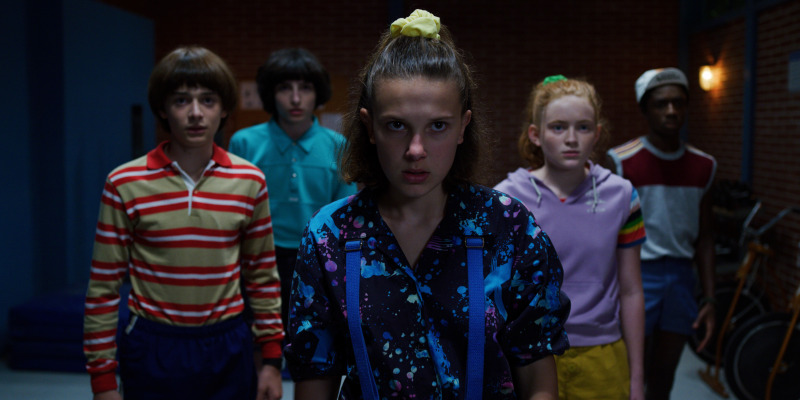 While it deals with young friendships, 80's nostalgia and even young love – there are also monsters. Big, scary monsters.
Average Episode Length: 50 minutes.
Number of Seasons on Netflix UK: 3.
Best Netflix UK Drama Shows
13. The Crown
If you like historical dramas, and have the slightest interest in the Royal Family, this lavish Netflix Original will scratch that itch spectacularly.
Starting from the marriage of Queen Elizabeth and Prince Philip, the show follows the trials and tribulations of the Royal Family, but also of the country, the government and the press. Whatever your opinion of the monarchy, the show manages to turn these larger-than-life characters into human beings – while at the same time making them even… larger than larger than life?
Three seasons are currently on Netflix, with two more expected to come in the future.
Average Episode Length: 55 minutes.
Number of Seasons on Netflix UK: 3.
14. POSE
The series, created by Ryan Murphy, Brad Falchuk, and Steven Canals is set in the 80's (then moves to the early 90's on Season 2), in New York, amidst the African-American and Latino LGBTQ ballroom scene.
As campy as it sounds (and it is), POSE wears its heart on its sleeve, dealing with difficult and sad topics (the rampaging AIDS epidemic, LGBTQ and particularly Transgender rights, discrimination, and the list goes on). It's uplifting and infuriating at the same time, which is not an easy feat.
It's a very emotional watch at times, but if you get into it, you're likely to devour the 8 episodes of Season 1 instantly. Season 2 will reach Netflix at some point in the future – but is also currently available on BBC iPlayer.
Average Episode Length: 50 minutes.
Number of Seasons on Netflix UK: 1.
15. BoJack Horseman
An animated Netflix Original with Will Arnett in the lead role, BoJack Horseman is a bit misleading at first – despite being animated, and having a lot of comedy stars doing the voices, this is a very philosophical – not to say depressing (but thought-provoking) show.
The show centres around BoJack Horseman (yes, he's a horse), a washed-up star of a 90's sitcom who is trying to return to to the limelight.
The series premiered back in 2014 and has six seasons and 77 episodes – so you'll have a lot to binge on. But try not to do it all at once – it's a heavy show…
Average Episode Length: 25 minutes.
Number of Seasons on Netflix UK: 6.
16. Breaking Bad
If you somehow missed one of the best shows of the century (and its prequel), you're in luck, as all the seasons are on Netflix UK for you to binge on.
Starring Bryan Cranston in the lead role as Walter White, Breaking Bad's premise sounds simple enough – a high school Chemistry teacher who learns he's got cancer, and decides to manufacture and sell drugs. He gets together with a former student (Aaron Paul) and the two start building… an empire.
Watching Walter's transformation from a quiet family man into a drug kingpin over five seasons is one of TV's most bewildering transformations, but the show will also keep you on edge for its entire run.
And when you're done with Breaking Bad – you can move straight ahead to the series in #17…
Average Episode Length: 47 minutes.
Number of Seasons on Netflix UK: 5.
17. Better Call Saul
A brilliant prequel series to Breaking Bad, some dare say Better Call Saul is even better than its predecessor. Set in the early 2000s, the series tells the story of Jimmy McGill (Bob Odenkirk), the lawyer who eventually turns into Breaking Bad's Saul Goodman.
We also follow Jonathan Banks' character from Breaking Bad, Mike Ehrmantraut – who is not quite the dirty-ex-cop we later know him as – yet.
While the show deals with similar themes, and again shows the journey of a somewhat-decent man spiralling down into crime – it has a very different tempo than the show it spun off from.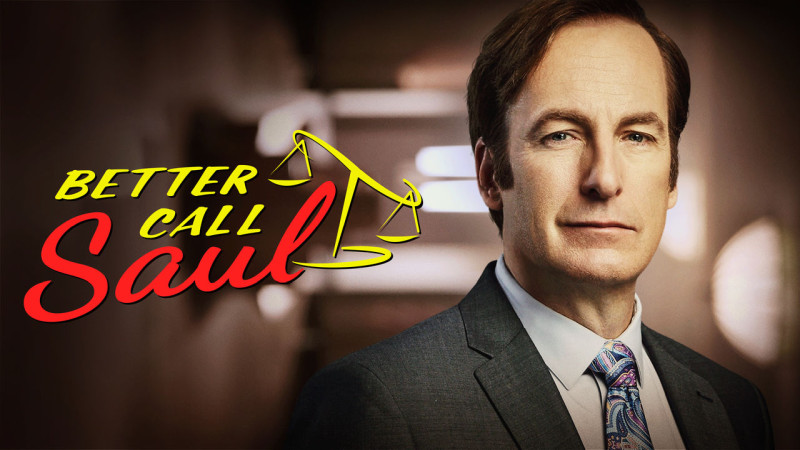 There are currently four full seasons on Netflix UK, with Season 5 airing new episodes week-by-week.
Average Episode Length: 45 minutes.
Number of Seasons on Netflix UK: 5.
18. Riverdale
And now for something completely different… Riverdale, based on the popular American Archie Comics, is hard to categorise – it's a teen drama, a soap opera, a murder mystery – and there are even supernatural elements.
It's somewhat of an acquired taste – you really need to like teen soap operas, but if that's your cup of tea, Riverdale delivers and then some, and it also doesn't take itself TOO seriously. (Plus, the first few seasons feature the late Luke Perry, who died unexpectedly last year)
The premise of the show is almost irrelevant, but here goes: "The series follows Archie Andrews' (KJ Apa) life in the small town of Riverdale and explores the darkness hidden behind its seemingly perfect image."
Season 1 felt fresh and binge-worthy, but things got whackier and whackier with each season – though many fans still swear by it.
Average Episode Length: 42 minutes.
Number of Seasons on Netflix UK: 4.
19. Suits
Now known the world over as "the TV show with Meghan Markle", Suits is much more than that. On the surface, it's a legal drama – but in reality, the legal issues take a backseat to the relationship dramas and soapy plotlines.
The series begins with Mike Ross (Patrick J. Adams), a brilliant college dropout, who starts working as a law associate for Harvey Specter (Gabriel Macht), despite not actually being a laywer. And yes, that premise actually holds for many years…
While there's nothing truly "great" about this series, it's quite addictive, and if you're not careful, you'll find yourself binging several seasons all at once.
Average Episode Length: 41 minutes.
Number of Seasons on Netflix UK: 9.
Best Netflix UK Action Shows
20. Narcos
Even if you think you already know the story of Columbian drug lord Carlos Escobar – this Netflix original series will keep you on the edge of your seat.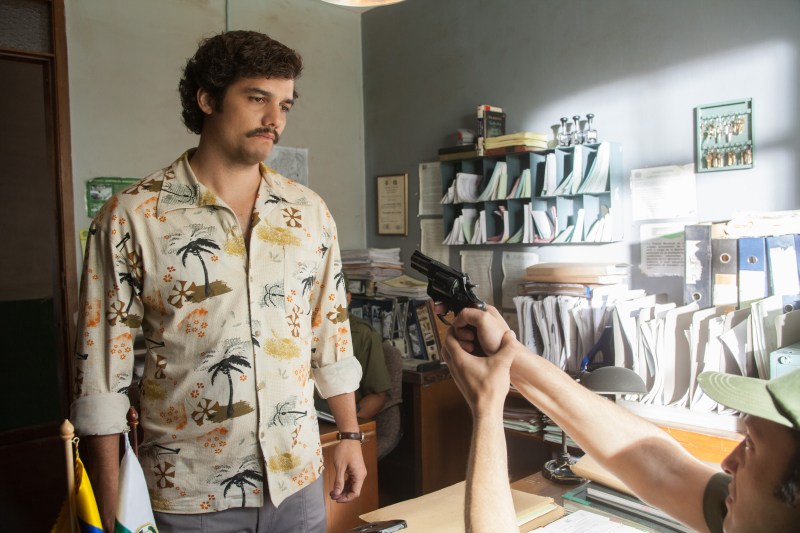 Narcos focuses both on Escobar himself (played beautifully by Wagner Moura), and the DEA agents who are trying to bring him in against all odds – and against a lot of the corrupt Columbian establishment.
Average Episode Length: 45 minutes.
Number of Seasons on Netflix UK: 3.
21. Narcos: Mexico
The "problem" with shows based on true stories, is that they can't go on forever, even when they're good and popular. So when the Columbian story ended for the makers of Narcos, they switched to Mexico.
With similar themes and elements (Drug lords, corrupt officials, brave cops and a lot of violence), Narcos: Mexico could have easily been another season of the original Narcos, but instead, they made it a spin-off.
At times, it feels a bit slower, and it's hard to beat the riveting character (and actor) of Pablo Escobar – but if you liked the original, you're going to enjoy this one as well.
Average Episode Length: 60 minutes.
Number of Seasons on Netflix UK: 2.
22. Money Heist
This Spanish show (originally titled La casa de Papel – "The House of Paper") is the ultimate binge material – a bank heist, cops and robbers, twists and turns, and a cliff hanger at the end of each and every episode.
It's all pretty straight-forward and the "romantic" parts fall a bit flat, but you'll devour whole episodes without even realizing that time went by.
The first two seasons are one complete "story", and the third (and upcoming fourth) seasons tell a new "story" with some of the same characters. Oh, and do yourself a favour – watch the original Spanish version, and not the English-dubbed one.
Average Episode Length: 45 minutes.
Number of Seasons on Netflix UK: 3.
23. The Spy
An Israeli mini-series (though it's a Netflix co-production) that tells the real-life story of Eli Cohen, a Mossad spy who managed to infiltrate the top ranks of the Syrian military and government in the 60's.
The show stars Sacha Baron Cohen, who really excels in this dramatic role. Even if you're familiar with some of the real events (and some fiction has been added for dramatic effects), it's still staggering to see everything unfold.
Average Episode Length: 50 minutes.
Number of Seasons on Netflix UK: 1.
24. Line of Duty
If you're at all familiar with British television, you must have heard of Line of Duty, the thrilling police show from Jed Mercurio.
The show follows Anti-Corruption Unit 12 and some of its officers, with each season focusing on a new central story (and bad guys), with several threads that continue from season to season.
If you haven't watched any of it before – or have missed some of it – this is the perfect binge-material, with a lot of suspense and cliff-hanger endings. Season 5 isn't on Netflix yet, but it IS available on BBC iPlayer (just remember you'll need a TV Licence if you watch it on iPlayer).
Average Episode Length: 58 minutes.
Number of Seasons on Netflix UK: 4.
25. Bodyguard
If you liked Line of Duty, you should feel right at home with Bodyguard, another high-profile police thriller from Jed Mercurio. The show was so popular when it first aired on the BBC, that it had the highest viewing figures since 2008 (which is more impressive in this day and age, when TV viewers have so many options).
The show follows Police Sergeant David Budd (Richard Madden), as he is assigned to be the bodyguard for the Home Secretary, Julia Montague (Keeley Hawes).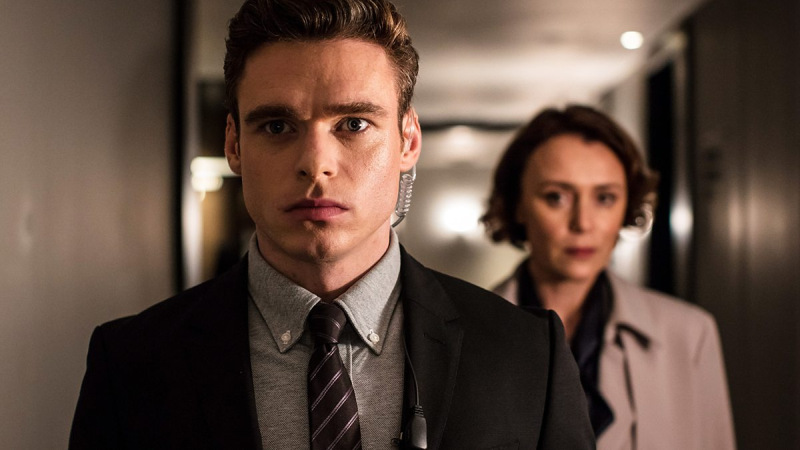 Sort of a mix between Line of Duty and 24, it's very action-oriented, it's full of some truly incredible twists, and can be devoured in a weekend as it's pretty short at only 6 episodes.
Average Episode Length: 57 minutes.
Number of Seasons on Netflix UK: 1.
26. Homeland
An American show that started as a spy thriller, but kept changing and evolving with each season.
Developed by the creators of 24, the show stars Claire Danes as Carrie Mathison, a Central Intelligence Agency officer with bipolar disorder.
Many viewers have left the show after the explosive first two seasons, but it's a shame, as the show got better and better each year, and managed to keep relevant with so many things changing in the American political climate.
Average Episode Length: 50 minutes.
Number of Seasons on Netflix UK: 7.
Best Netflix UK Thriller Shows
27. Mindhunter
Serial killers (and the officers who need to catch them) have always been popular on TV. This show, however, goes to the beginning – looking at some of the most infamous serial killers from the 70's and 80's in America, and how the FBI tried to understand what makes them tick.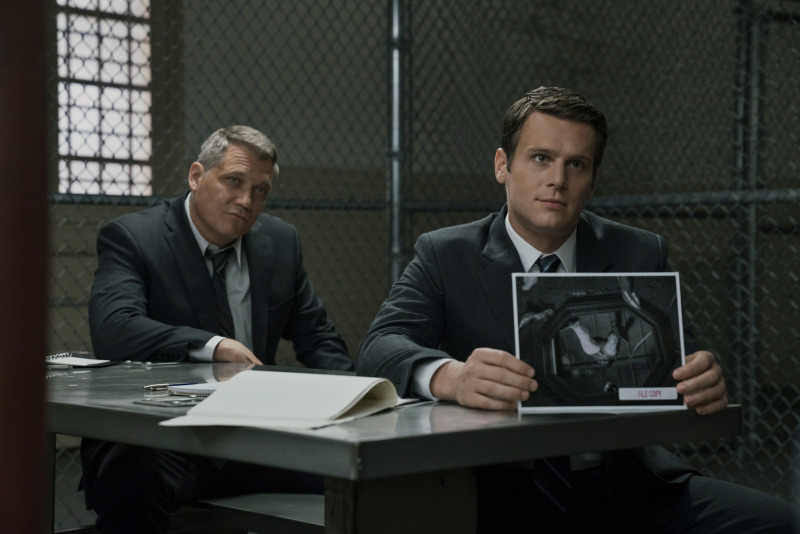 The series stars Jonathan Groff, Holt McCallany and Anna Torv, and it's not for the faint of heart (although there's mostly talking, and not a lot of actual on-screen violence). Two seasons have aired so far, and the third one has been postponed indefinitely, unfortunately.
Average Episode Length: 50 minutes.
Number of Seasons on Netflix UK: 2.
28. You
A Netflix original that's based on a novel, You tells the story of Joe Goldberg, a New York bookstore manager who falls in love with a female customer… and quickly develops an extreme, toxic, and delusional obsession. Oh, and he's also a serial killer.
The show walks a thin line between drama, romance (yes, somehow) and suspense, and it plays with our minds, showing a likeable (at times) protagonist who does horrible things.
Average Episode Length: 49 minutes.
Number of Seasons on Netflix UK: 2.
29. Chilling Adventures of Sabrina
A supernatural teen drama/thriller, created by Roberto Aguirre-Sacasa – who is also behind Riverdale. The show is loosely based on a comic book series that tells the story of Sabrina, a half-witch/half-mortal high school student.
However, it's very different from the 90's TV incarnation, Sabrina the Teenage Witch, which was a comedy.
The new Sabrina is a very dark series, and despite basically being a young-adult show, goes into some very surprising places. The main cast is young and handsome (a-la Riverdale), but it feels much more grown-up than a typical high school drama. And most importantly – it's a lot of fun.
Average Episode Length: 55 minutes.
Number of Seasons on Netflix UK: 3.
30. American Horror Story
A horror anthology series from Ryan Murphy, each season tells a new story (with some overlaps), with a different set of characters and themes (though many of the actors are recurring).
Some seasons are better than others, and those who are squeamish should avoid some of the more… graphical ones (like Season 4 – "Freakshow").
Season 8, "Apocalypse", is set in a world where the few human survivors (of an apocalypse) are isolated in special shelters – so it might ring some familiar bells, if you're very worried about the world these days…
Average Episode Length: 42 minutes.
Number of Seasons on Netflix UK: 8.
31. The Haunting of Hill House
Another supernatural horror anthology series, this Netflix original is quite scary – so keep that in mind.
Season 1, which received a lot of critical acclaims, takes place in 1992, when a couple and their five children move into Hill House to renovate the mansion in order to sell it. They begin to experience increasing paranormal phenomena, and end up running away from the house. Years later, the siblings reunite as they are forced to confront their time in Hill House.
Average Episode Length: 60 minutes.
Number of Seasons on Netflix UK: 1.