The Amazon Fire TV has long been my go-to streaming device in the UK (see my full review here), and yesterday Amazon finally announced the 3rd generation: The all-new Fire TV with 4K HDR. While the new device has some impressive new picture quality capabilities, it also has some downsides over the previous Fire TV models – so let's have a closer look.
The all-new Fire TV now supports 4K Ultra HD in up to 60 frames-per-second (compared to 30fps on the previous model), which means better picture quality. The new Fire TV also adds support for HDR – High Dynamic Range, which offers increased color range and enhanced contrast, and in some cases is an even better improvement in picture quality than just 4K.
Of course, you would need a TV with 4K HDR support, as well as 4K HDR content, which is currently available in limited capacity on the Amazon Instant Video service and on some Netflix shows.
The new Fire TV also adds support for Dolby Atmos sound. It has 2GB of RAM, and 8GB of internal storage. As with previous models, the Fire TV comes with the Alexa Voice Remote, which lets you find programmes and apps using your voice.
Another major difference with the new Fire TV is its form factor – gone, for now, is the square box designed to sit on your TV cabinet. Instead, you get a flat square, 65mm in size, attached to an HDMI cable, which is meant to dangle behind your telly. This shape makes the new Fire TV closer in spirit to the Amazon Fire TV Stick.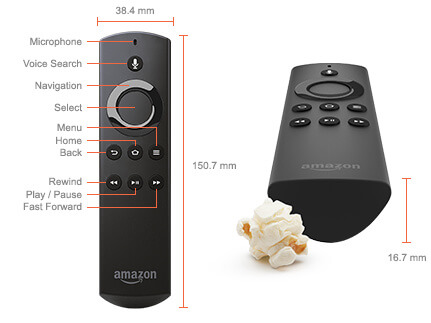 The small size comes with a price, though – the new Fire TV only has an HDMI port, and a USB port (for power) – the original Fire TV's Ethernet port is gone, which means you're limited to a WiFi connection out of the box. To get around that, Amazon are selling a separate Fire TV Ethernet Adapter, but you would have to pay extra for that, and it's yet another box dangling behind your TV.
Rumors suggest that Amazon are working on yet another Fire TV model, which will be bigger and more powerful than the new square, and will presumably include microphones and a speaker, serving as an Echo device as well as a Fire TV.
For now, though, we're left with this new device – which takes a few steps forward, and backwards at the same time – mainly with the ditching of the Ethernet port, which is a real shame, as 4K HDR streaming needs the best broadband connection you can get.
I'll take a closer look at the new Fire TV once it's actually out. The initial release price is £69.99 (that's approx. 93 dollars), which is unfortunately higher than the price in the US, where the cost is $69.99.
For now, the Amazon Fire TV 4K HDR is available for pre-order, with the actual release date being October 25.