I will always have a soft spot for the Amazon Fire TV – as it was the first full-time streamer I ever bought. I was so desperate to get it at the time – that I had to order it from Amazon's U.S. store, as they weren't selling it in the UK yet. Years later, I'm finally writing the Amazon Fire TV review.
Amazon have released the second-generation Amazon Fire TV – this time with 4K capabilities ("Ultra HD"), in late 2015, and that's the model we're looking at today. It's definitely one of the better streamers for cord cutters out there – but it does have its downsides. So let's dive right in…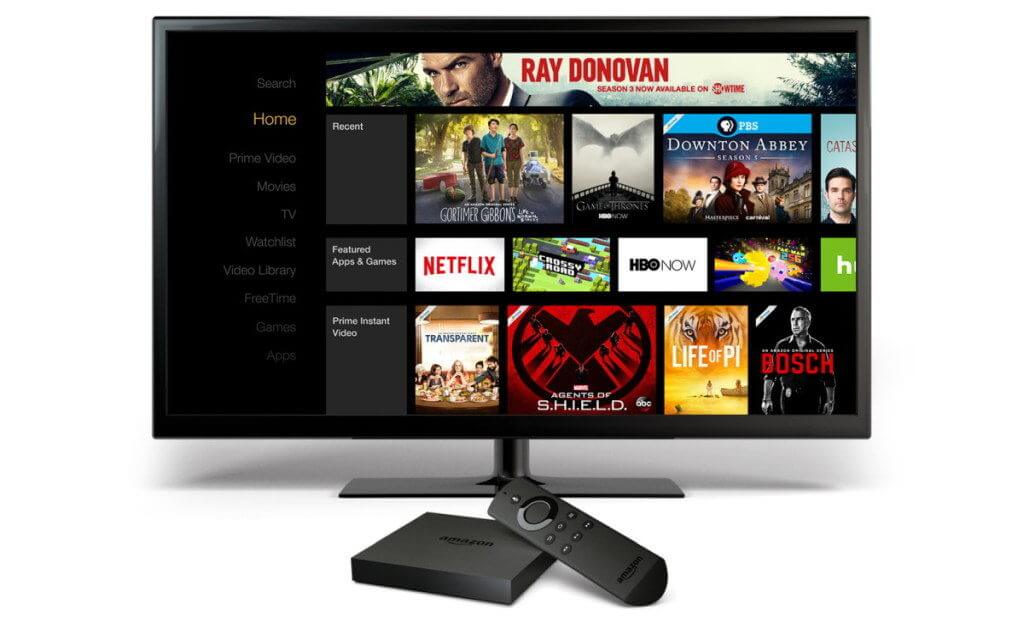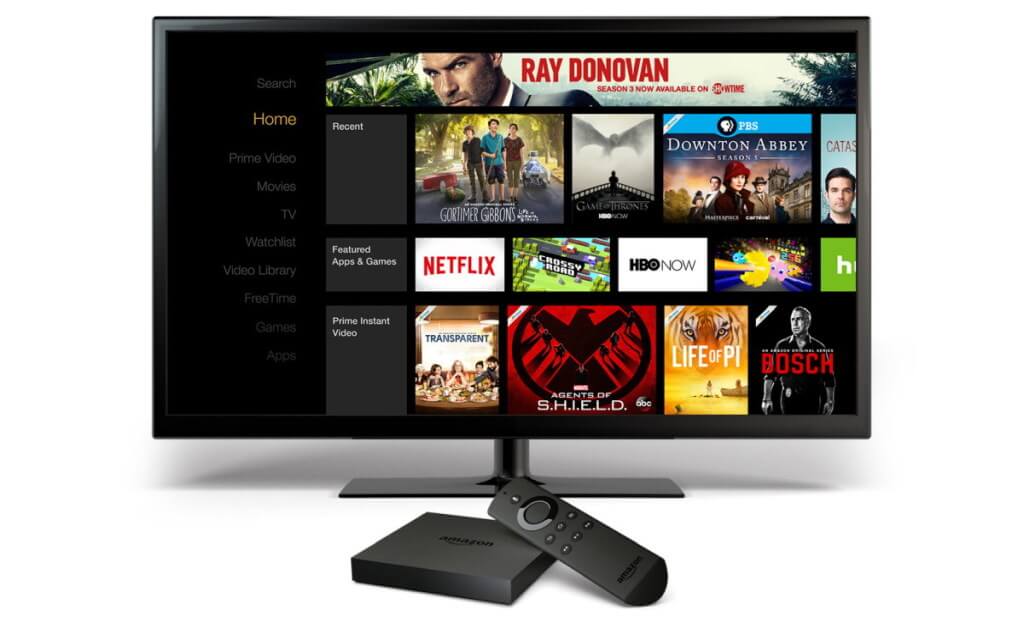 Quick Look – Amazon Fire TV Box With 4K
Who is it for: Full-on cord cutters, preferably subscribed to Amazon Prime
Pros
Voice Search is fast and works very well
The interface is easy to use (if a little dated)
Ergonomic, easy to use remote
Picture quality is excellent
Cons
No NOW TV, Google Play or iTunes
No "Alexa" capabilities in the United Kingdom (yet…)
You occasionally need to restart the device
Summary
The Amazon Fire TV 4K box is a great all-in-one choice. The excellent voice search saves you a lot of fiddling with the remote, the app selection is impressive (no "NOW TV" though), and you can even use it to play games. But it works best for Amazon Prime subscribers.
---
Who is The Amazon 4K Fire TV For?
If you buy a new TV today, there's a very good chance it'll come with some "smart" features built in – even at the lower price points. And with those "smart" features, you will usually, at the very least, get the Netflix app, the BBC iPlayer app, and one or two of the other "big name" streaming services – depending on the TV maker.
So, is there a point in buying a dedicated, £75 box that basically does what your smart TV does? The answer is Yes – but only for some of you.
There are many problems with the "smart" features built into today's TVs:
They're often painfully slow
They're sometimes buggy, and don't get frequent updates
When the TV maker wants you to buy a new TV, they'll usually abandon their "old" smart interface, and apps will slowly stop working
The interface is usually clunky and annoying to use
If you have a "smart" TV or have played with one, you know what I'm talking about – the remote control is usually designed by a blind monkey with 14 fingers (good luck finding the right button in the dark!), and when you do manage to press the right button, you have to count to five before anything happens on screen.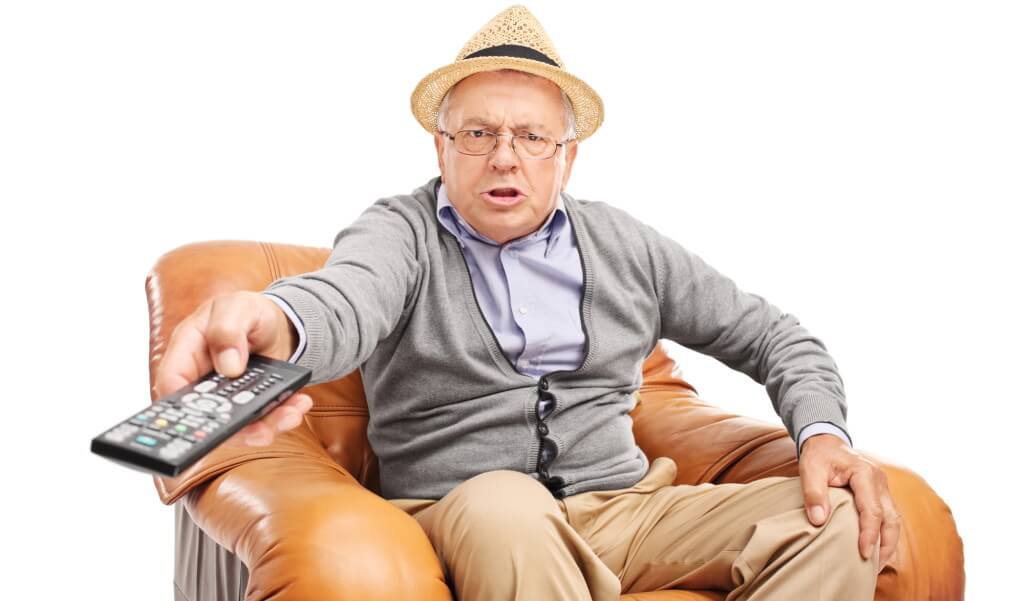 In addition, you have to stumble around that awful interface, find that Netflix app you were looking for, only to find out something went all crazy inside, and you're seeing an episode list of one series and a picture from a different series. Time to reboot the app, or the TV, or both. Urgh!
Still – you get all that for FREE (minus the cost of the TV, naturally), which is hard to beat, and it IS usable. So I would say that if you're not a full-time cord cutter (yet) and you only occasionally watch Netflix or iPlayer in addition to your regular cable TV subscription – then you can make do with your Smart TV features.
However, if you're really into cord cutting, and that's the only TV you watch (which means you want it to be fast, convenient and future-proof) – or, if you have an older "dumb" TV model – then the Amazon Fire TV is definitely in the cards for you.
The Amazon 4K Fire TV – What is it?
The Fire TV is a small box (115 mm x 115 mm x 17.8 mm) that sits near your TV , and serves as a mini-computer for all (well, most) of your streaming needs.

Most of its functionality works through various "Apps" that you install (just like your phone or tablet) – so there's a Netflix app, a BBC iPlayer app, the ITV Hub, etc' – plus productivity apps like weather forecasts, news apps, and even a rather large selection of games.
You connect the FireTV to your TV set with an HDMI cable, then to an electrical socket, and finally, to the internet, either via an Ethernet cable or Wi-Fi.
Quick Tip: Should you use Ethernet or Wi-Fi? Ethernet connections (with a cable directly connecting your Fire TV to your broadband company's internet hub) are usually faster and more stable than Wi-Fi, but if your broadband hub isn't nearby, you will need a cable running through your living room (or some other Ethernet extension box, such as a Powerline Adapter).
If you're going to stream 4K content (which is quite heavy on data amounts), I would suggest you make an effort to connect the Fire TV with an Ethernet cable. If you only stream regular 1080p HD content (or less), AND your Wi-Fi connection around the TV is fast and stable – Wi-Fi would make do.
Once the Amazon Fire TV is online, it will show you a short [boring] introductory video, and then you're ready to go. In fact, if you order the box directly from Amazon through your regular account, the Fire TV will already come configured with YOUR name and Amazon account, which kind of feels like magic.
The Amazon Fire TV Interface – Useful, yet slightly outdated
The basic Fire TV interface has been around pretty much since the launch of the first device, several years ago – and by now, it's showing its age (though there's a new interface slowly trickling to devices around the world – I'll write about it when it's more widely available.)
Despite the dated feel, the interface is pretty clean and convenient, and still better than most of the "smart TV" interfaces.
On the "Homescreen", you get a changing collection of rows (they change depending on your usage and the Amazon algorithms), starting with "Recent", which shows you your most recently used/watched Apps and Shows, and then – a variety of things Amazon is trying to promote, usually either shows that it wants you to buy/rent, or things you can watch with an Amazon Prime subscription.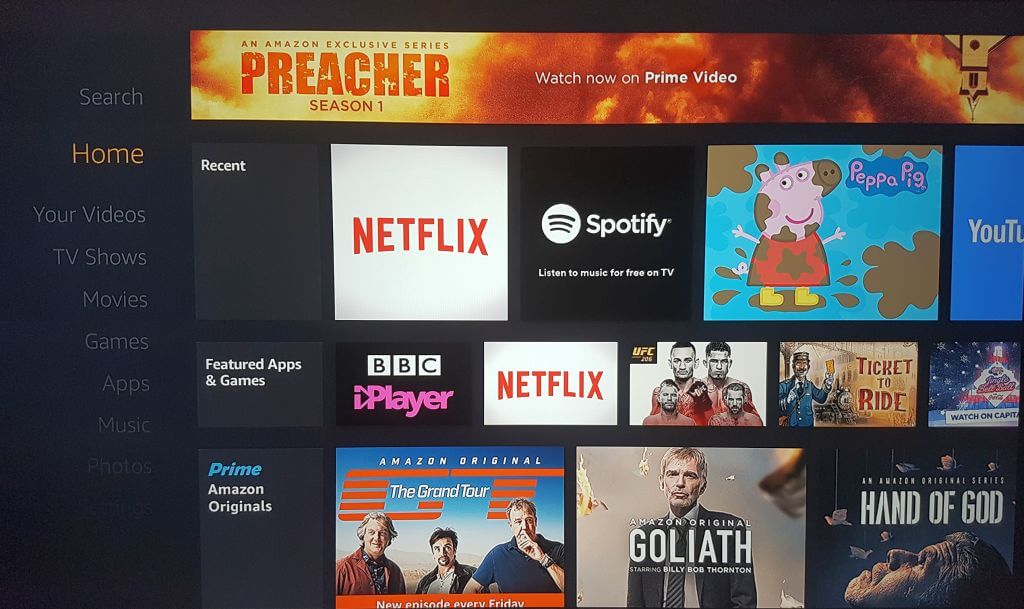 Beneath the "Home" screen, there are several other tabs, including a "Your Videos" where you see both your "Watchlist" – the movies/shows you've marked for future viewing, along with videos you've previously purchased directly from Amazon.
You also have separate "TV Shows" and "Movies" tabs for browsing through the selection, dedicated "Games" and "Apps" tabs, and even a Photos tab, where you can store photos via your Amazon account, and display them on your TV.
The interface isn't perfect. Occasionally, for example, something weird will happen to an app, or the entire device, and you will have to restart the whole device (and since there's no OFF button, you might even need to unplug it from the wall). Plus, if an app freezes or starts going crazy, you might want to "Force Stop" it, but that option is hidden deep inside the settings menus.
The Fire TV Voice Remote – It's like magic! (or at least… it used to be)
Remember my complaint about the the clunky interface of Smart TVs? While the Amazon Fire TV interface is better, you can all but ignore that interface, thanks to the "voice controlled" remote.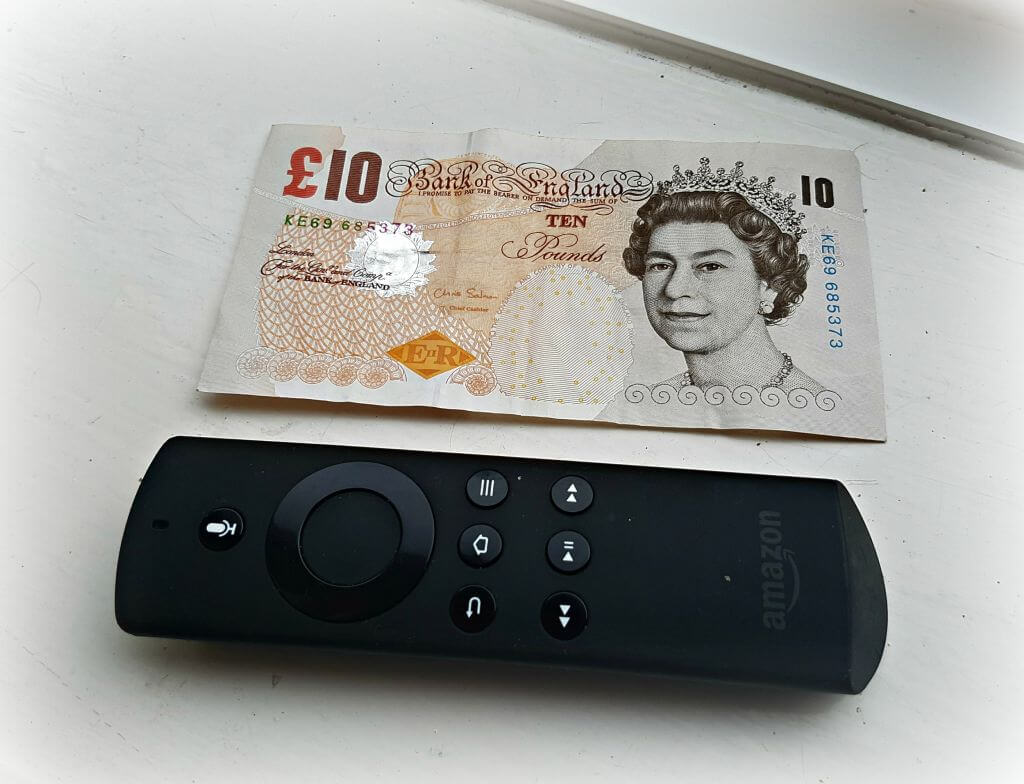 The way it works is pretty simple – you press the uppermost button on the remote, say the name of either the Movie, TV show, or App that you want – and the device finds it for you in an instant.
The voice control is connected to the wide search capabilities of the box. It includes Amazon's own Prime Video selection (more on that later), and Netflix (Sadly, no BBC iPlayer for now). And it's not confined to TV and movie names either – you can also say the name of an actor, or a director, and get relevant results.
Once the box finds the appropriate movie/show, one press of the button on the remote will launch that show instantly (or offer to sell it to you), either on Amazon's video platform, or via the Netflix app.
You can also use it to say the name of a specific game or app that you want to run – and the Fire TV will find that as well.
When Amazon released the first generation of the Fire TV, they were one of the first to utilize voice recognition in a TV box. Now, the competition's caught up, so the magic has faded a bit – but the implementation is still excellent, and makes the box very easy to use.
And indeed, it usually works like a charm. While sometimes you say something and the Fire TV fails to recognize it (or annoyingly thinks you've said something else – mind your accent!), in most cases, the recognition is pretty impressive and saves you the hassle of going through all the tabs, or – God forbid – trying to "type" into the search box with the remote.
Quick Tip: Keep losing your remote, or just prefer to do everything on your smartphone? There's an Amazon Fire TV Remote app, which also comes in handy when you need to type something. And it works with the voice search as well. There's an Android version, as well as an iPhone version.
One annoying omission is "Alexa" – that's Amazon's voice-powered, AI assistant, best known from the company's Echo device. In the U.S., the Amazon Fire TV also has some (limited) Alexa features – you can "ask" the remote to tell you the weather, to tell you jokes, and to answer various search queries. In the UK, for some reason, that feature isn't available on the Fire TV at this point.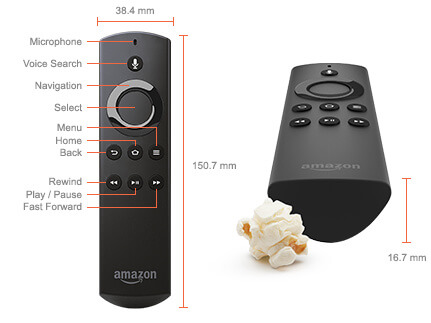 The rest of the buttons on the remote are well located. You have a navigation wheel with a big "select" button in the middle, a "Home" button that always takes you back to the main Home screen (useful – but very annoying when you press it accidentally in the middle of a movie), and the usual video control buttons.
The remote is very sleek-looking, just the right size to hold in your hand, and the buttons, while without any back-lighting, are well placed so you can easily find them in the dark just by touching.
The battery life is a bit of an issue, especially if you use the voice search function a lot – I've had to replace the two AAA batteries every 2 months or so.
[button link="https://www.cordbusters.co.uk/go/fire-tv/" type="big" color="blue" newwindow="yes"] Get The Fire TV On Amazon[/button]
What Can I Watch on The Amazon 4K Fire TV?
As you may know, Amazon is also a player in the streaming content business – and so the Amazon "Video Store" is featured prominently (maybe even too much) on the Fire TV's screens.
With the Amazon Video Store you can rent – or buy – movies, and TV shows (either separate episodes, or a full series). Assuming you're already an Amazon customer, and your billing details are updated, you can buy content with a couple of button presses (just the way Amazon likes it!).
In addition, if you're an Amazon Prime member (either for £79 a year, or with a monthly payment – read more about it in my Amazon Prime Video review), you get a big selection of shows and movies that you can watch "for free" (as part of your subscription).
The Amazon Video shows (both Prime and non-Prime) are front and center on the Fire TV box – you're constantly being teased to pay Amazon for the shows you want to watch, or at least make sure you have a Prime subscription.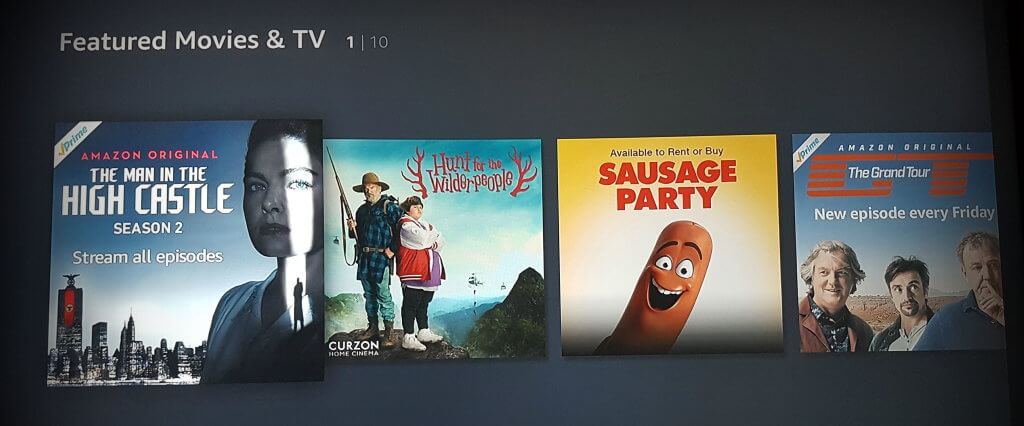 But even if you DO have a Prime subscription, the Fire TV often lumps together shows and movies that ARE part of your subscription, and those that aren't. You can tell the difference between the two thanks to a prime "ribbon" on the appropriate thumbnails, but it's still annoying to see a list of "Best TV Shows", for example, and then find out that you would have to buy most of them separately.
If you want to see shows from other services (Netflix, iPlayer, etc') – you would have to run the specific app to do that. In most cases, The Fire TV won't go out of its way to remind you that there are shows and movies on other services.
While this Amazon-Centric approach has been a common complaint ever since the Fire TV's release, it's not really that big of a deal in my opinion. The other streaming services (those that are ON THE DEVICE, at least) are easy enough to get to (at which point you enter THEIR eco-system), and you just need to treat the main Fire TV interface as another front for Amazon Video, along with a shortcut to the the other apps.

There's a pretty good selection of things to watch via dedicated apps on the Fire TV:
Netflix
BBC iPlayer
My5
itv Hub,
4 on Demand
BBC News
TV Player (for live UK channels)
YouTube
Plus, the Fire TV has a dedicated "Plex" app – which would let you stream content from your own computer (for example – home videos, or videos you've acquired… "elsewhere").
What CAN'T I watch on The Amazon Fire TV?
The three most notable omissions for British cord cutters are the Google Play video store, Apple's iTunes, and Sky's NOW TV.
The absence of Google Play and iTunes is annoying, but understandable – these services are in direct competition with Amazon's video store, so they were barred from entering. It would have been great to have all the services in one box – but there's too much competition for that to happen. (Roku comes close with Google Play AND the Amazon Video store – but alas, no iTunes – you need an Apple TV box for that).
The absence of a NOW TV app, however, is strange, and quite annoying. You can watch NOW TV with a Google Chromecast, and on a Roku, and game consoles, and Sky's own NOW TV Streaming box, and the list goes on – but no Fire TV, so you would need a separate device connected to your TV for that, and that's a real shame.
Technical Specs – The Quality and Speed of the Fire TV
Size
115 mm x 115 mm x 17.8 mm
Weight
270 grams
Processor
MediaTek 8173C
Quad Core
2x @ 2GHz & 2x @ 1.6Ghz
GPU
Power VR GX6250 600MHz (Max)
Resolution
2160p up to 30fps; 720p and 1080p up to 60fps
Storage
8GB
Memory (RAM)
2GB
Wi-Fi
MIMO 802.11a/b/g/n/ac
Ports
10/100 Ethernet, HDMI output, microSD slot, USB 2.0, DC Jack
Bluetooth
Bluetooth 4.1
Audio
Support for Dolby Audio, 5.1 surround sound, 2-channel stereo and HDMI audio pass-through up to 7.1
In The Box
Fire TV, Voice Remote, Power adaptor, 2 AAA batteries
I try not to dwell too much on technical aspects here, as, at the end of the day, you want to sit back and watch TV without worrying about processors and dual band antennas and such.
That being said, the Amazon Fire TV does an exemplary job of giving you high-quality video, with a fast interface. The quad-core processor is fast, which means the voice recognition is also fast, and it also helps if you want to use the device for playing games.

And of course, there's 4K (after all, it's part of the name of this 2nd generation model…). You will need a 4K TV to watch the Ultra HD content, and then you will get a picture resolution that is four times greater than HD.
You also need a big TV to spot the difference (at least 50 inches in my view) – but if you do, the difference in quality is quite impressive. At this point, I can't say this is reason enough to go out and buy a new TV, but if you're in the market for one anyway, get a 4K one – they're cheaper now, and you get a nice, future-proof (at least for a few years) picture.
To watch 4K TV, you also need the right content. At this point, you can find a few 4K titles on Amazon's video service, as well as Netflix – though on Netflix you would need to subscribe to the higher tier (currently £8.99).
The Amazon Fire TV does NOT support HDR – (High Dynamic Range), which offers increased color range and enhanced contrast – and that's a shame, since Amazon's video service DOES have titles with HDR. The next Fire TV model will probably fix this.
The Fire TV also has a feature called "Advanced Streaming and Prediction" – supposedly, it "learns" the shows you regularly watch, and gets them ready for you, downloading some of the content ahead of time, which reduces the need for "buffering" when you start watching.
As many other aspects of the Fire TV, this feature only works with the Amazon Video content – and frankly, I haven't seen much use for it. If you have a fast internet connection, buffering would be minimal anyway.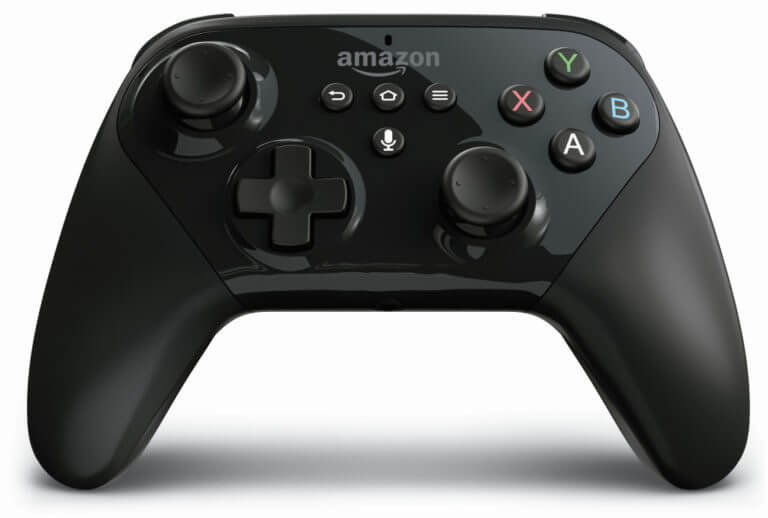 As mentioned briefly, the Fire TV also supports gaming – you can even buy a dedicated console-like controller (either separately, or as a packaged deal). This isn't really a gaming machine – it won't replace a PlayStation or an XBOX, but it works as a cheap alternative if you're not in the market for one of the bigger, more expensive names.
Bottom Line – Is The Amazon Fire TV Box For Me?
The Fire TV is a great device for UK cord cutters – but mostly if you're into the Amazon Eco-system (which mainly translates to – do you have Amazon Prime?).
The interface is OK, voice searching works great, and the picture quality is superb (as long as you have a good TV). But you first need to decide – Are you an iTunes user, a Google Play user, or an Amazon Video user?
If it's the latter, then this is definitely the box for you. And if you're just starting out your cord cutting adventure, this is as good a place as any to start – and will give you a better experience than settling for a "smart" TV, or a low-cost made-in-China streaming box.