True wireless earphones were considered science fiction up until a few years ago – yet now they're all the rage, with competing models and differing prices flooding the market.
The Urbanista Athens true wireless earphones, with their excellent audio quality and strong bass, IP67 waterproofing and very impressive battery life, are trying to corner the sports audio market – as you can even swim with them. But they're also a great choice for watching a Netflix movie at home, or for some podcasting on that long commute.
However, they're not without faults – so in this Urbanista Athens review, I'll take a look at the good and the bad, and help you decide whether these earphones are worth your time and your money.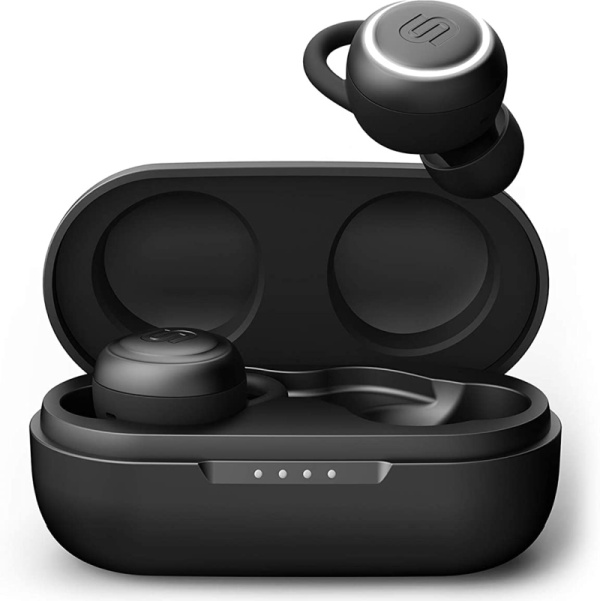 Quick Look – Urbanista Athens
What are they: True wireless earphones that connect to your phone/laptop/streaming device via Bluetooth. Retail Price: £119.
Overall
Pros
Excellent battery time (32 hours total)

Great audio quality, especially if you like a lot of bass

Fit well in the ear
IP67 Waterproof
Built-in mic works well for phone calls
Cons
No active noise cancelling

Bass

can be too heavy

Occasional connection issues

Don't always block outside noises
---
Features and Specs
Driver unit: 6mm
Battery Playing Time: 8 hours
Additional Battery Time on Case: 24 Hours (32 in total)
Full charging time:

1 hour

Case charging port: USB-C
Bluetooth Version: 5
Extra Features: Can be used to control Siri, Google Assistant or Amazon Alexa.
---
Summary
Excellent true wireless earphones that give you up to 32 hours of total use without looking for a power outlet. They sound great (though might be too bassy for some) and are comfortable in the ear, but they don't do noise cancellation, and occasionally stutter with the Bluetooth signal.
---
Who Are The Urbanista Athens For?
The true wireless earphones market is on fire these days. With most smartphones ditching the 3.5mm earphone jack, Bluetooth earphones are the way of the future – and truly wireless seems to be the popular trend.
Truly wireless means there are no wires or cords at all, not even between the left and right buds. This means those tiny buds need to house all the electronics, AND the batteries – so there's some sophisticated engineering to do.
While the Apple Airpods seem to be setting the tone, they cost a pretty penny (especially the Pro model), and therefore there's a big and diverse market around them – which is where the Urbanista Athens come in.
Urbanista is a Swedish audio company that's been making headphones since 2010. Their products are named after famous cities – and the Athens model is one of the latest editions.
With a recommended retail price of £119, the Athens are firmly placed in the mid-price tier of wireless earphones. They're a bit on the expensive side, when compared to some of the competition – but if you can find them on sale, the value for money really jumps up.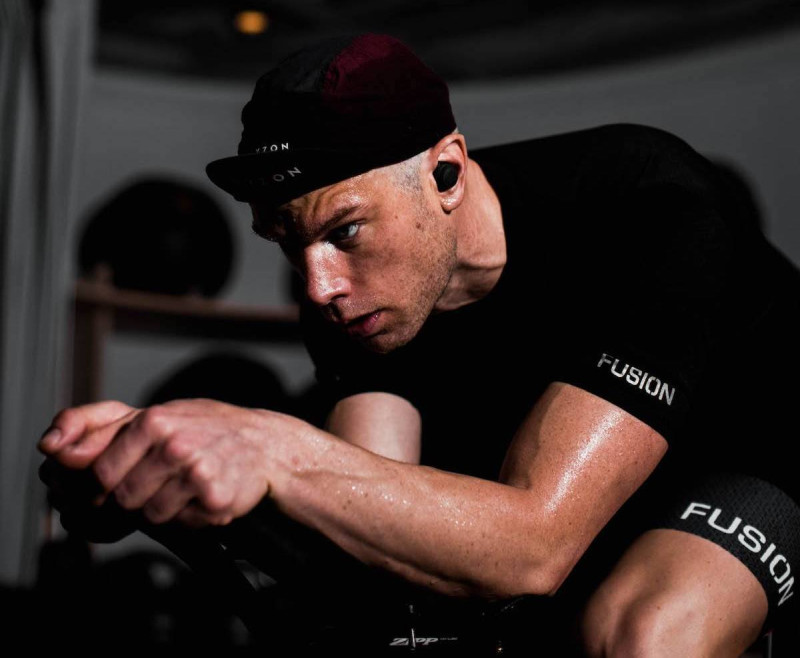 The Athens are marketed as "Sports" earphones – with a very tight fit, you don't run the risk of them falling off in the middle of your run or your gym activity, and the IP67 waterproofing means you don't have to fear the rain – and you can even swim with them.
Plus, the very small charging case fits easily into your pocket, and can even get lost inside your gym bag, with how tiny it is.
That being said, the Athens aren't just for sports fans – you can enjoy them just as much from your sofa, or while commuting in the tube.
But are they the right fit for you, in such a crowded market? Let's dive in.
Using The Urbanista Athens
Back in the day, headphones didn't come with instruction manuals. You plugged them into the physical jack, and that was that.
But those days are long gone, and earphones are measured not only on their performance – but also on how easy they are to setup and use…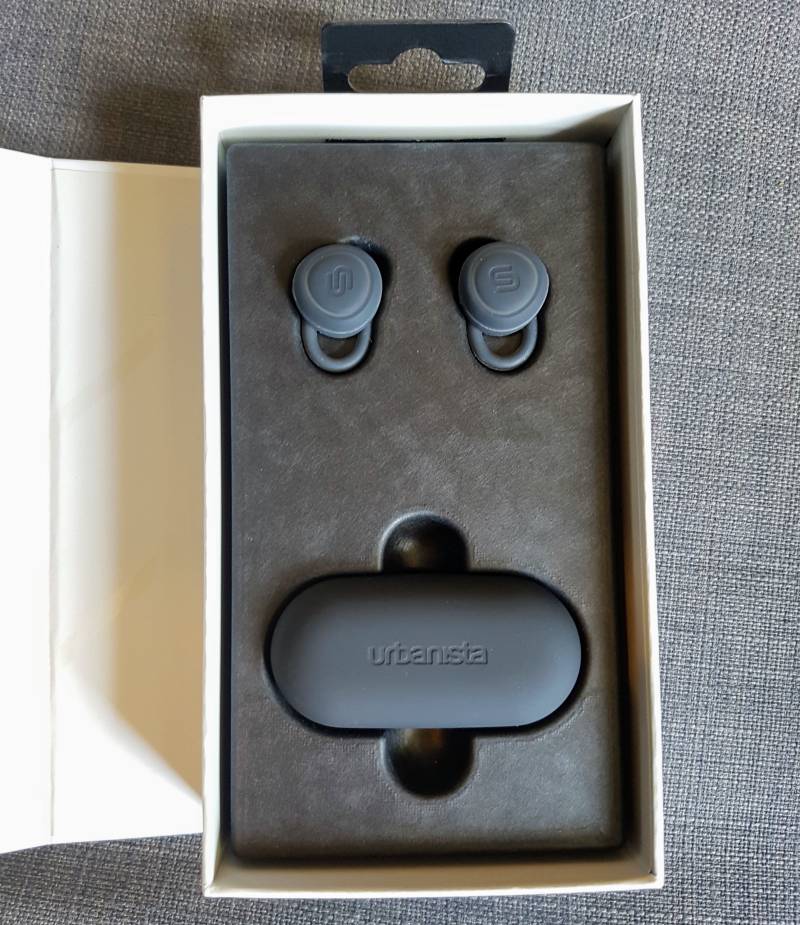 Size And Comfort
The Urbanista Athens are quite small (even when compared to other true wireless earphones), and flat – which means they don't stick out from your ears like some other models do.
They come with three Silicone "tips" sizes, so you can look for the perfect fit for your ear, as well as three sizes of "loops".
Those rubber loops are supposed to help keep the earphones in place. For me, they were kind of redundant, but it really depends on the size and shape of your ears.
The Urbanista Athens feel good in your ear, and sit there pretty comfortably. Even after several hours of use, they didn't hurt my ears, and I almost forgot they were there.
Since there's no Active Noise Cancellation (you can find that on the Urbanista London earphones – see our review), a tight fit is important, otherwise outside noise will slip in.
For me, that fit was a bit lacking. They did sit well in my ears – so there was no risk of them falling out at any point. But outside sound was bleeding in just a bit too much, which is distracting when you're trying to listen to some quiet music.
That being said, at least you don't run the risk of someone on a scooter running into you…
Pairing And Controlling The Urbanista Athens
The Athens can be used with any device that supports Bluetooth 5 (or below) – so your smartphone (either iOS or Android), your laptop, a desktop PC with a Bluetooth dongle, and even some soundbars and streaming devices. (The Amazon Fire TV devices, for example, support Bluetooth headphones).
When you first take the Athens out of their case, they immediately go into "Pairing" mode. At that point, all you have to do is Scan for Bluetooth devices on your device.
You'll pair the Right earbud first – and then the Left one will connect automatically as well.
And that's about it – the Athens are now ready to use, and you can start playing music (or anything else) on your device.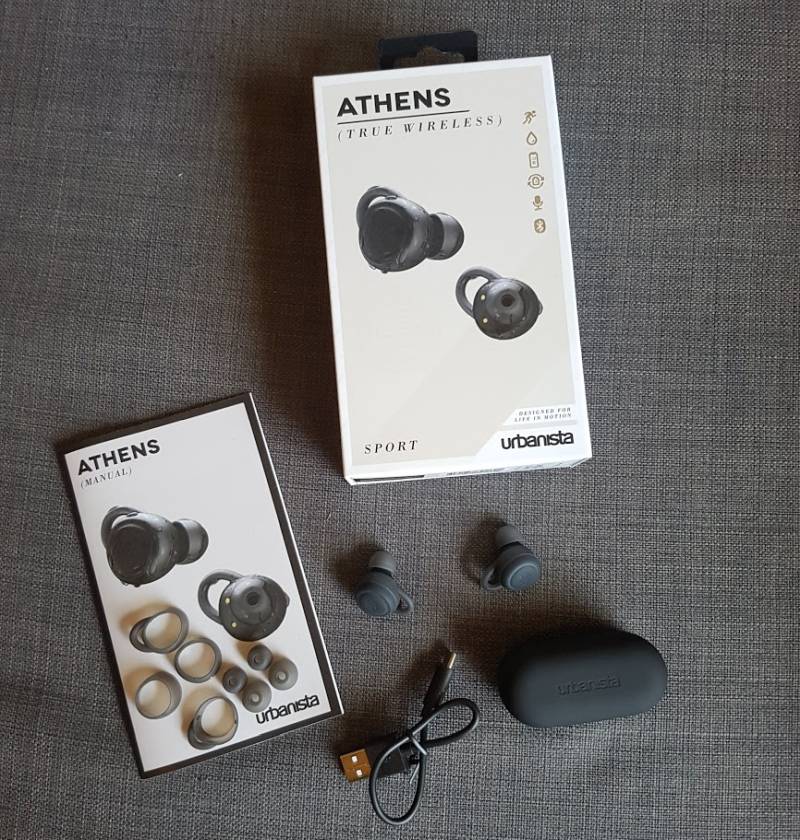 Once you're done listening, and you put the earphones back in their charging case – they automatically turn off and disconnect from your phone (or other device) – so you don't have to manually switch audio settings on your phone. And when you take the Athens back out – they, again, automatically connect to the last device you used.
It's a perfect system most of the time – but there's one annoyance, which is shared by most Bluetooth headphones: if you want to use them with more than one device, you'll have to manually unpair them from the first device, before you pair them to the second device.
So, let's say you use them with your laptop in the morning, and then want to use them with your phone at night. When you take them out of the case, they'll remember your laptop, and connect to it.
At that point, there's nothing you can do on the earbuds themselves to disconnect them from the laptop – you have to go over to your laptop, and tell it to forget the earbuds. Only THEN, will you be able to connect them to your phone. And in the morning? You have to repeat the whole process, in the other direction.
It's a rather annoying issue that many Bluetooth headphones suffer from – though some CAN connect to multiple devices. Alas, with the Athens you'll have to remember this when you want to switch devices.
The Athens' control buttons are located on the face of each earbud. These are actual buttons, and not touch surfaces – which means that each button press pushes the earbuds into your ear.
Thankfully, the buttons only need a very light press (unlike some other models I've tested, where the buttons require a deep, painful push!), so when using the right angle, it's not that bad.
Remembering what and how to press is a bit of a chore and will take some practice – You press the left side twice for Play and Pause, while pressing the Right side Once raises the volume, and pressing the Left side Once lowers the volume.
But pressing the Right side Twice activates your chosen voice assistant (Google / Siri / Alexa), and skipping a track takes a long two-second press on the right, and a long press on the left for the previous track… And of course, there's a double-press to answer a phone call, and a Long Press to reject a call…
You can see how these presses can get very confusing very fast – but after a day or two, you get used to it.
Bluetooth Connection Strength
The Urbanista Athens support Bluetooth 5, so connection with your phone (as long as it also supports Bluetooth 5) should be pretty stable.
During my testing, there weren't a lot of hiccups – but there were some. When connected to my laptop, for example, one day everything was smooth – and yet another day, my music kept jumping because of very short Bluetooth hiccups.
Using them with a smartphone, the sound was perfect most of the time – but going through a particularly crowded area, or a place with weird radio interferences – did cause some tiny breakups here and there.
All in all, the Urbanista Athens don't avoid this common Bluetooth issue – but it doesn't happen a lot either.
Audio Quality – It's All About The Bass
The most important part about earphones is, of course, the audio quality.
I'm happy to say the Urbanista Athens don't disappoint on that front – but they certainly have their own – how shall we say it – character.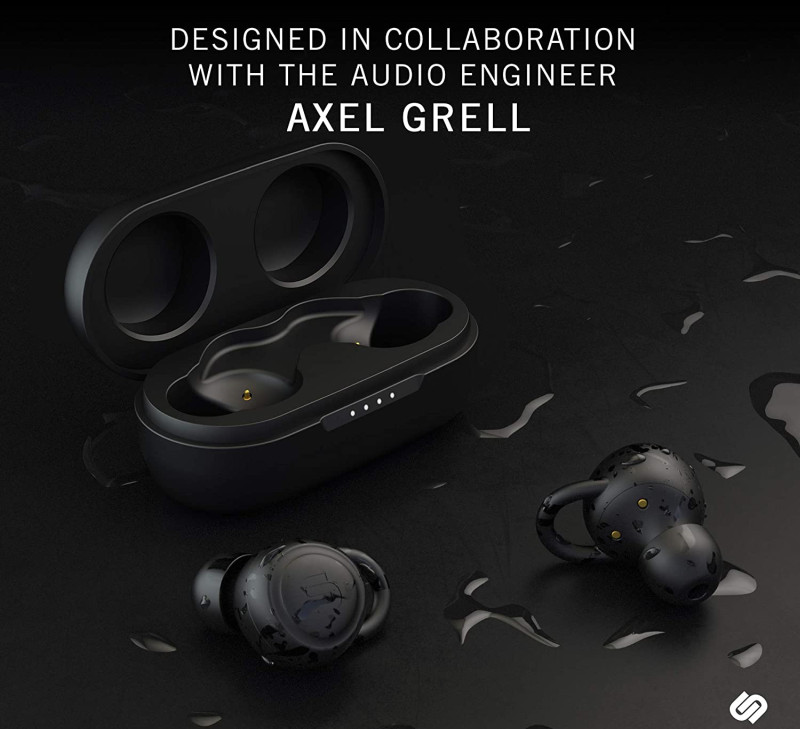 Since this is audio-centred, we asked our in-house musician Stav Drieman do this review, since he spends most of his time listening (and composing) music.
The sound quality is really good with crisp highs and surprisingly good lows. For some, though, it will take some extra tweaking with their device's EQ – and then you're good to go.
(Unfortunately, the Urbanista Athens don't have their own EQ-settings app, so you have to do that independently in each app you're using – such as Spotify – if it has such a setting).
The sound tends to get bassy, But overall music sounds clear with enough high frequencies and bass to complement any type of music.
So yes, it's something to keep in mind – the Athens are QUITE heavy on the bass. So much so, that at times it overtakes the other parts of the track.
And when you're listening to podcasts, deep male voices will feel like they're thumping your heart, with how low and bass-filled they sound.
If you're a deep-bass kind of person, you're going to love the Athens' sound. If you're not… well, I don't think it's a deal-breaker, but your mileage may vary.
As for phone calls (Remember those? it's something we used to do a lot on our smartphones), the Urbanista Athens excel in this department. Hearing the person you were talking to was always easy, and the other side reported clear sounds from my end, which means the microphone works well.
Watching Movies With The Urbanista Athens
Since we focus so much on streaming services and devices here on Cord Busters, I had to test the Athens with a few movies and TV programmes, and see how they sound.
The easiest way for that is of course on a smartphone. But you can also connect the Athens to your Amazon Fire TV stick, or potentially to a Smart TV or Soundbar – if they support Bluetooth.
When using wireless earphones to watch video content, the main hurdle is the lip-syncing, since Bluetooth is notoriously laggy.
Happily, the Athens' connection with my devices was stable enough for TV-watching, in most cases.
When watching Netflix and YouTube videos on my Android phone, the dialogues were clear and well balanced with the rest of the soundtrack (so no tiny voices with deafening explosions, as is sometimes the case).
They worked flawlessly when connected to the Fire TV as well, which is a perfect way to watch TV late at night without waking up your housemates.
The only place I had some issues was when I tried to watch Netflix on my Bluetooth-enabled laptop. Something on my laptop didn't sit well with the Athens, and while the sound was still deep and very good, there were some visible lip-syncing issues.
As always, Bluetooth connections are a bit of a gamble with each device you try – but it's good to see that the Urbanista Athens handled most of the devices I threw at them well.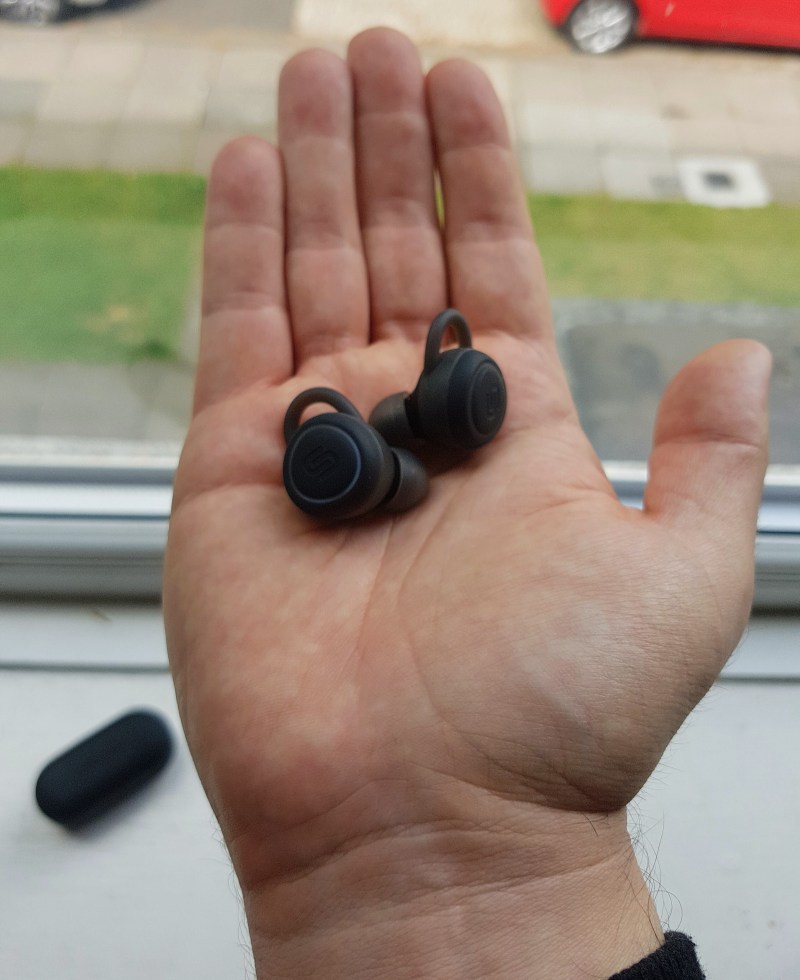 Urbanista Athens Battery Time
With wireless headphones, the second most important measure (after the audio quality) is the battery time. After all, there's no point in having amazing earphones that stop working two hours into your run/gym/flight.
The Urbanista Athens really shine in this department: a full charge will give you 8 hours of use time (that's actual playing, not just stand-by).
And the tiny case holds three additional full charges – so 24 hours (and they only take about an hour to fully re-charge in the case).
This means that you can use and re-charge the Athens for up to 32 hours, before you need to find a power outlet. (Which you connect the case to with a standard USB-C cable).
When compared to other true wireless earphones, these numbers are fantastic: Apple's Airpods only give you 5 hours of play time (and 24 in the case), the Airpods Pro only give 4.5 hours of play time, and many other models hover around those same numbers.
So getting 8 hours really puts the Athens near the top of the list, when it comes to battery times.
Real-world testing is tough, because battery drain depends a lot on what you're using the earphones for, which device you're connecting them to, and whether you're also using the microphone (for calls).
But most of the time, my real-world times were pretty similar to those advertised by Urbanista, and I never had to stop and charge the earphones mid-play.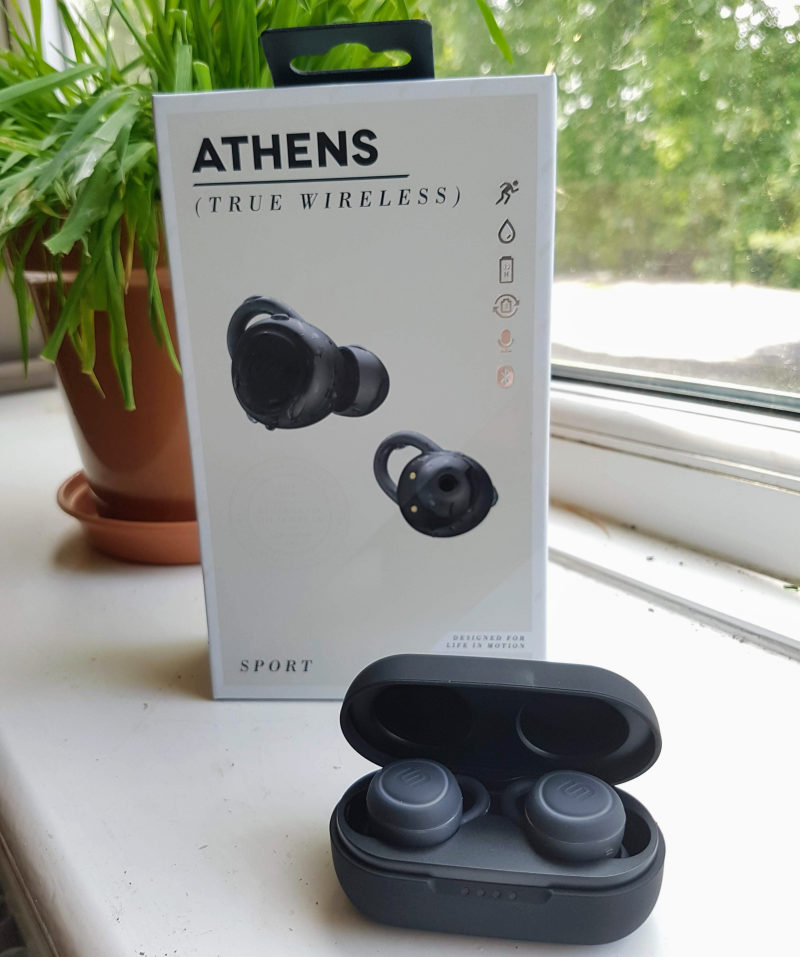 Bottom Line: Are The Urbanista Athens Worth It?
The three major pillars to look at when shopping for true wireless earphones are Sound quality, Battery Time and Price.
The Urbanista Athens easily take the lead in the Battery Time department. And the sound quality is also excellent – provided you don't mind all that bass. (Sure, an audiophile will get better sound from earphones that cost twice as much – but you need to compare apples to apples).
Which leaves the price. At a suggested retail price of £119, they're a bit expensive, when you look at some of the direct competition out there.
But you still get very good value for money – and, if you happen to catch them on a special sale, it almost becomes a no-brainer.
Yet even at their regular price, if you're a bass-fan who's looking for earphones from a well-known company, that can last for a LONG time on a single charge – you can't go wrong with the Urbanista Athens.
Note: The Athens were supplied by the manufacturer for this review. As always, this did not influence my unbiased opinion of the product.