Sky's streaming TV service, NOW TV, has raised the price of their "Sky Cinema Pass" starting today (April 4): the package, which includes more than 1,000 movies on-demand as well as "live" streaming of Sky's cinema channels, will now cost £11.99 per month, instead of £9.99 – a jump of 20%.
NOW TV was created as Sky's answer to Netflix and cord cutters – a cheap TV service that doesn't require a lengthy contract, gives you flexible packages ("passes") of content and can be watched on a variety of devices and streaming boxes.
NOW TV's major competitors, Netflix and Amazon Prime Video, are now considerably cheaper. A Netflix mid-tier subscription (with HD streaming) costs £7.99 per month, and Amazon Prime Video is £5.99/month (or less if you pay for an annual Amazon Prime subscription).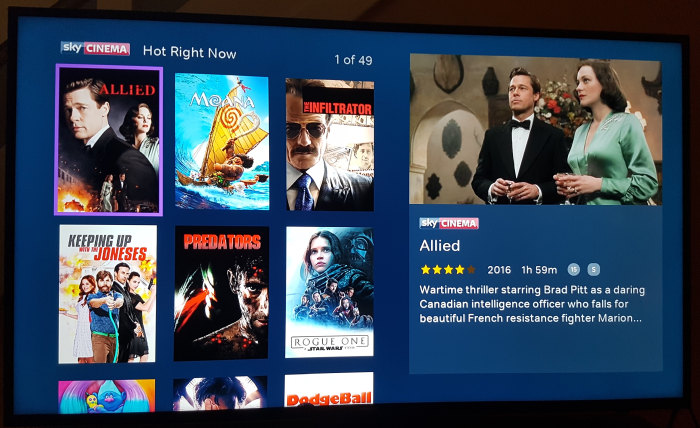 Plus, Netflix and Prime Video both include movies, TV shows and kids content – while on NOW TV, you'll need to get a separate pass for each, so you'll end up paying more than £20/month if you want it all. (And a Sky Sports pass is even more expensive.) Additionally, Netflix and Amazon both have Full HD and even 4K streaming – while NOW TV is disappointedly still stuck with 720p streaming.
However, a direct comparison is difficult, especially in the films department – NOW TV has a much more current library of films, with many of the latest blockbusters, which you won't see on Netflix or Amazon – such as Solo: A Star Wars Story, Avengers: Infinity Wars, The Greatest Showman and many others.
There are still ways to cut the cost of a NOW TV subscription – check out my guide here. And as always, new NOW TV subscribers can get a free 7-days trial.