Earlier today, Amazon announced a number of new devices at their annual "Echo" event in Seattle. As you would expect, Amazon introduced a slate of new Alexa-enabled devices, from a new "Echo Studio" high-end speaker, to a ring and eyeglasses with built-in Alexa, and even… a smart oven.
While there were no major Fire TV announcements at the event (these were already done a couple of weeks ago, when Amazon announced the new Fire TV Cube, TV, and Fire Soundbar) Amazon did mention again that the Fire TV devices have 37 million monthly active users globally. In addition, they mentioned the Fire TV will soon receive deeper Alexa integration – so it will be able to do more.
As for new Echo devices, there are several:
The Amazon Echo 3rd Generation: A new version of the mid-range Amazon Echo, which looks exactly like last year's Echo, but has upgraded speakers, and a new colour option – "Midnight Blue". It will cost $99.99 in the US, and £89.99 in the UK. Preorder it here.
The Amazon Echo Studio: A high-end Alexa-enabled speaker which supports Dolby Atmos and 3D Audio. Inside the small speaker, you'll find five drivers, three mid-range speakers, a tweeter and a woofer. While it costs more than the regular Echo, it still offers a very competitive price when you compare it to the likes of Sonos. The price in the US will be $199, and £189.99 in the UK. Preorder it here.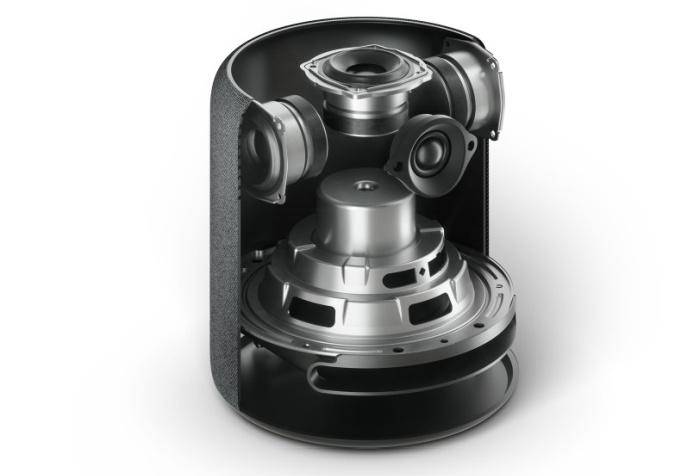 Alexa Dot With A Clock: Exactly what it sounds like. According to Amazon, customers ask Alexa for the time "over a billion times a year" – so instead of asking, you can now see it on the dot, with an LED under the fabric. It can also show alarms and the temperature, and even has a physical "snooze button". The price? $59.99 in the US., £59.99 in the UK. Preorder it here.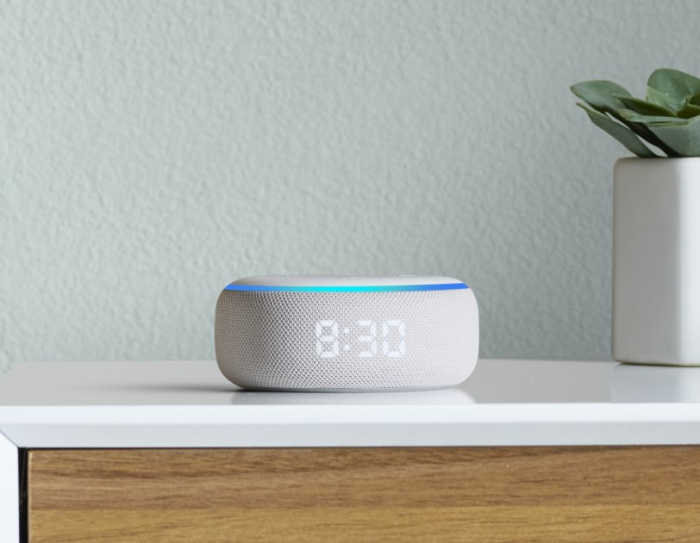 Echo Show 8: Earlier this year, Amazon introduced the Echo Show 5, which is an Alexa-enabled speaker with a built-in 5″ touch-screen and a camera, so you can use it to watch videos AND make video calls. The new Echo Show 8, will have a… you guessed it – 8-inch HD display. The price in the US is $129.99, and £119.99 in the UK. Preorder it here.
Echo Flex: Moving from the big Echo devices to the… tiny one. This device is a small Echo that plugs directly into your wall socket, with a small speaker (similar to the one on your mobile phone, so not suitable for music, but decent for Alexa's voice), two buttons and a light. You can also attach an optional motion sensor which will turn this into a night light. Yes, it's an Echo Night Light… The price in the US is $24.99 for the basic device and $14.99 for each of its accessories. In the UK – £24.99. Preorder it here.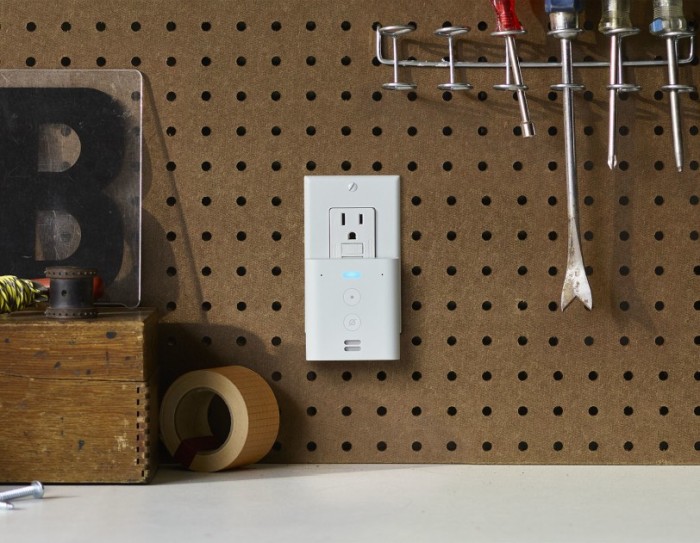 The Echo Buds: Truly wireless Alexa-enabled earbuds, with 5 hours of battery life, and additional 20 hours charged in the case. They will have two drivers "inspired by those used by professional musicians", noise cancellation, the option to tap and hold for activating phone-based assistants (Siri and Google Assistant), and – Alexa, which you will be able to talk to just by using the wake word. The pre-order price is pretty competitive – $129 in the US, £119.99 in the UK. The preorder page says "coming soon"…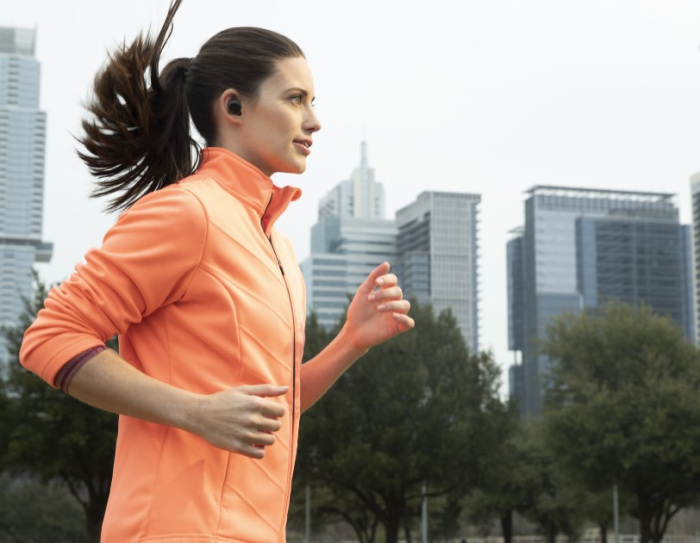 The Echo Frames: Yes, glasses with Alexa built-in. They won't have a camera or a display, but will have a microphone and directional speakers that will direct the sound at you – so people around you won't hear Alexa's answers, presumably. The glasses are going to cost $179.99 in the US, and will be available in limited quantities, to test the market.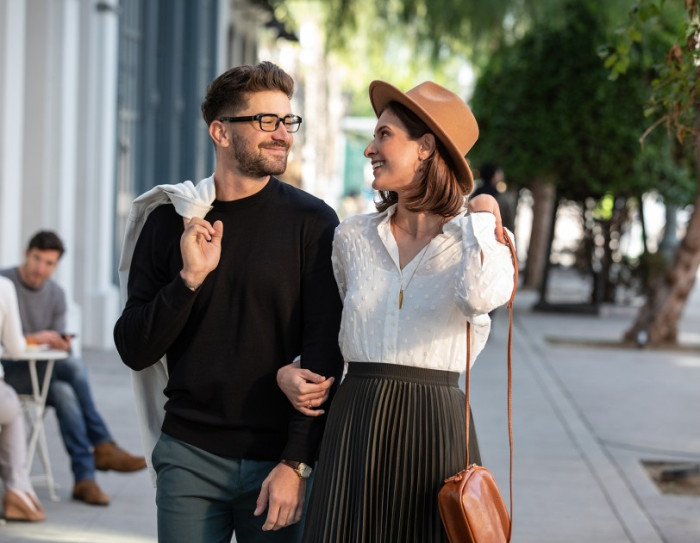 The Echo Loop – An Alexa enabled… ring. It has two microphones which you activate by pressing a button. And, since it's far down on your finger, it will vibrate when you have pending notifications. The price – $129.99 in the US, also available in limited quantities.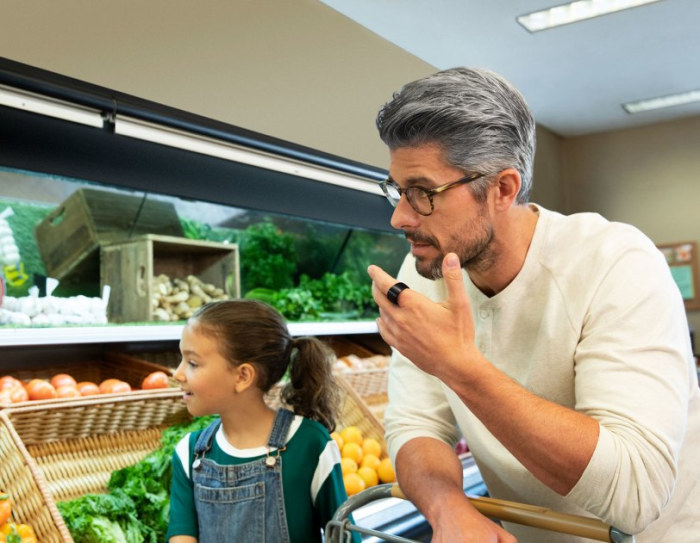 In addition to all the Echo devices, Amazon also announced new Ring Doorbell and alarm devices, a camera, a new WiFi router, "Fetch" – a pet tracker, and… yes… an Alexa-enabled smart oven. Will we soon be able to say "Alexa, prepare me a Christmas dinner"?