Up until now, if you wanted to watch Sky's solution for cord cutters – NOW TV (see our review), you had to either buy a smart telly, Google's Chromecast – or NOW TV's own "Smart Boxes". Now there's a new, portable stick from NOW TV themselves, called the "NOW TV Smart Stick" – and it's very cheap, at £15. Cheaper, in fact, than the Chromecast and Amazon's streaming stick (which doesn't include NOW TV). Nevertheless – is it worth the cost?
NOW TV was supposed to be Sky's answer to Netflix and Amazon Prime Video – for a cheap monthly price, and no contracts, you can get access to a library of movies (with the £9.99/month Cinema Pass), the latest TV programmes and box-sets (with the £7.99/month Entertainment Pass), live sports (£33.99/month) and programmes for kids (£2.99/month).
The NOW TV Smart Stick, which was announced today but will only go on sale in February (and no word on the actual delivery date yet!), is an HDMI stick that plugs into your TV and into a power outlet. The stick comes with a newly designed remote, which – like the Amazon FireTV stick – comes with voice search capabilities, so you can ask it to "Find movies with Tom Cruise", for example.
Just like NOW TV's bigger boxes, the stick comes with a selection of streaming apps – mainly the UK catch-up services like BBC iPlayer, the ITV hub and the rest of them. It does NOT come with Netflix and Amazon Video apps, so you'll have to go elsewhere for those.
Being small means the stick is portable – you can move it from room to room, or go on holiday with it (in the UK – as most of the local streaming services don't work out of the country).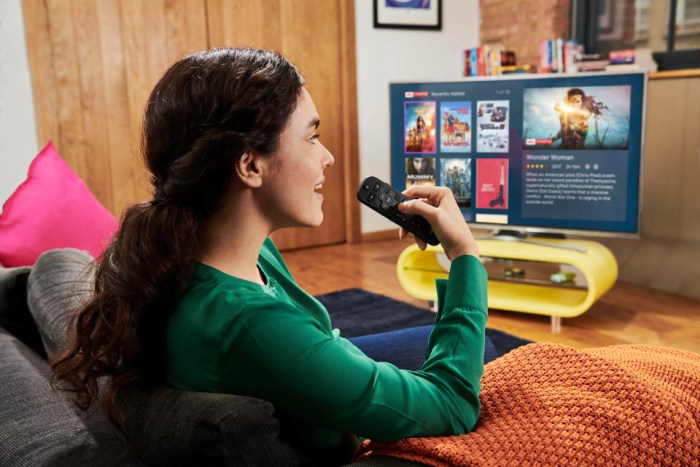 The stick supports Full HD (1080p), though it still suffers from NOW TV's age-old problem of only supporting 720p streaming. NOW TV announced they will finally support Full HD streaming from some of their channels – Sky Atlantic, Sky One, and Sky Sports – but only "by the end of the year", so we'll have to wait and see.
The Bottom Line – Should I Get The NOW TV Smart Stick?
If you're a big NOW TV fan, and have been looking for a cheap way to stream BBC iPlayer and the other UK catch-up services, this is a great little stick, and hard to beat for £15. (Plus, you will be able to get NOW TV passes at a reduced cost, when buying them along the stick.)
In comparison, Google's Chromecast costs around £30 (though it's often on sale – click here to check the price on Tesco Direc), and comes without a remote (you control it via your smartphone). However, it gives you a larger variety of streaming apps – almost every video app available on your phone or desktop browser.
Amazon's FireTV Stick is a bit more expensive (usually around £39 – click here to check the current price on Amazon), but again, it offers a larger variety of streaming apps (including Amazon's own video service), and even games. And it also comes with a voice remote.
So as an additional portable stick that lets you watch NOW TV – their stick is a good choice. But if you're going to buy just one, the fact that it doesn't have Netflix (and Amazon Video) is a major downside.
Check out NOW TV's latest offers via this link.