True wireless earphones are getting a bit confusing these days. The good news is that we have so many budget-friendly models with excellent sound and specs. But, with so many models, and new versions coming out every week, it seems that picking and choosing the right one can get daunting.
With that in mind, I was curious to see what Edifier's NeoBuds S bring to the table. I was a big fan of the previous model in this series – the NeoBuds Pro, which were excellent true wireless earphones with a very tempting price point (around £100).
Then Edifier released the NeoBuds S, which is an updated version, of sorts, of the NeoBuds Pro. The sound is still excellent, even slightly better than before, the Active Noise Cancelling is good (though not quite up to par with more expensive models), and the design – which is almost identical to the Pro – is still nice.
The main additions this time around are the support for Snapdragon Sound, which is a new sound codec for improved spatial audio, as well as aptX Adaptive. The battery times are slightly better, Bluetooth moved up to 5.2, and that's about it.
But, in addition to keeping some of the same downsides around (still no wireless charging), my main issue with this pair is the price – it jumped up by a hefty £50, to £150, as of this writing.
So, does the S justify that price difference over the Pro? Let's dig in deeper…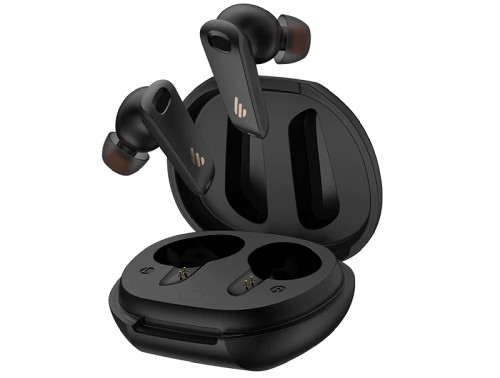 Quick Look – Edifier NeoBuds S
What are they: True Wireless Bluetooth earphones with ANC and High-Definition sound codecs like Snapdragon Sound. Price when reviewed: £150.
Overall
Pros
Excellent, clear audio with deep, thumping bass

Great Active Noise Cancellation
Ambient Mode also works very well
Advanced audio codecs – Snapdragon Sound, aptX, aptX adaptive
Quick Charge – 10 Minutes for 1 hour of listening
Cons
Battery times are still on the lower end (5.5 hours with ANC on)
Snapdragon Sound is supported on a limited number of phones
No wireless charging
Expensive
---
Features and Specs
Driver unit: 10mm Dynamic Driver + Knowles Balanced Armature
Battery Playing Time: 5.5 hours (6 with ANC off)
Additional Battery Time on Case: 16 Hours (21.5 in total with ANC, 25 without ANC)
Full charging time:

1 hour

/ 10 Minute Quick Charge (for 1 hour of use)
Case charging port: USB-C (No Wireless Charging)
Codecs: Bluetooth 5.2, Snapdragon Sound, aptX, aptX adaptive,SBC
Extra Features: IP54 Dust and Water Resistance / aptX for crystal clear calls / Touch Controls / Low latency gaming mode
---
Summary
These are excellent true wireless earphones, and while they're very similar to the Pro model, they do improve on some of the aspects and features. The price difference makes them harder to recommend though – so do get them if you can find a special deal, but otherwise, the NeoBuds Pro will be just as good for most people.
---
Who Are The Edifier NeoBuds S For?
Edifier, a Chinese company that specialises in audio products (they also make speakers and soundbars), has a pretty wide range of earphones, therefore new models and versions are usually not a surprise.
But the NeoBuds S were indeed somewhat of a surprise – because their place in the market is a bit unclear, with the excellent NeoBuds Pro still being around.
Let's get this off the table first: The NeoBuds S, just like the Pro, are quite good, with pleasing audio and a very capable ANC. The noise cancellation doesn't quite reach the levels of some higher-end earphones from Sony and Samsung, but it still does a good job of blocking out the environment around you, and improving the overall sound quality when you're listening to music.
The main proposition here is the addition of Snapdragon Sound, which is an advanced codec from Qualcomm that aims to improve spatial audio, engulfing you with better sound.
The problem? To be able to use it, both your earphones AND your phone have to support this. And, to date, only a very limited number of phone manufacturers support Snapdragon Sound.
The list is so limited, that even though I have 3 separate phones from 3 manufacturers at home – none of them were supported, therefore I couldn't even test Snapdragon Sound properly. You can find the full list here – but it mainly consists of Xiaomi, Motorola, a couple of Sony phones – and a few more lesser-known brands.
In a world WITHOUT the NeoBuds Pro, these would have been easy to recommend. But with the Pro version, and its very similar sound, costing £50 less – the recommendation becomes more difficult.
Nevertheless, these are still excellent earphones – so if you can snag them with a discount, they will become much more appealing.
Using The Edifier NeoBuds S
Size and Comfort
The NeoBuds Pro earphones had a huge box for some reason – but this time around, the box is about half the size.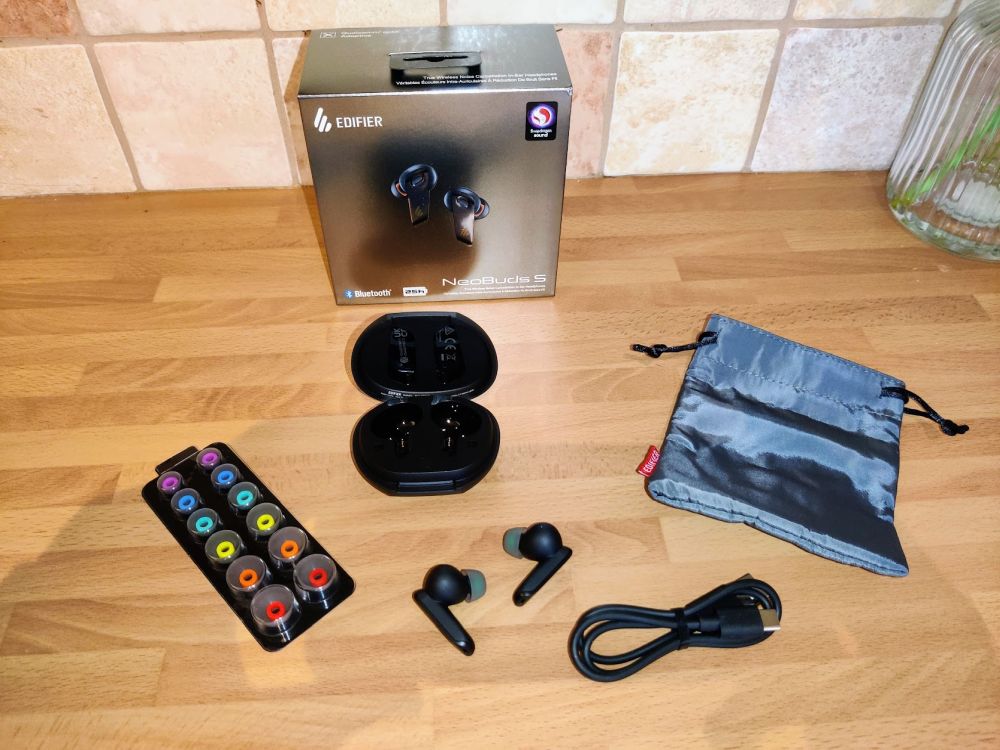 In the box, you'll find the earbuds themselves, which are moderately sized, though their stems are quite big – so they'll definitely be seen hanging out of your ears.
The buds are very lightweight, so they never feel heavy in your ear, even after long hours of use.
You also get a short USB-C charging cable, a carrying bag, a minimal instructions manual, and SIX additional ear tips – so seven in total (the same number as the NeoBuds Pro) It's a crazy number, but hey, why not – no matter how weirdly shaped your ears are, you're going to find the right fit.
The charging case is small, but not tiny – it will easily fit into a purse or a bag, and while you can put it in your pocket, it will definitely make a bit of a bulge there.
As before, I'm still a big fan of the NeoBud's case, and its cool-as-a-Cylon glowing light. You can even change the colour of that glowing light, via Edifier's smartphone app.
The buds are IP54-rated, which means they're resistant to water splashes AND dust, which is a nice touch – budget earphones are usually only resistant to water, so dusty (or sandy) environments can take their toll over time.
Pairing And Controlling
Pairing the NeoBuds S with my phone was easy – when you open the case for the first time, they immediately go into pairing mode, and my phone was able to find and pair with them instantly.
If you later want them to "forget" a phone, you can easily do that even without having the first phone at hand – as there's a convenient "reset" button on the case.
Subsequent connections were also instant, and I never experienced any mid-use disconnections or Bluetooth crackles, even in more crowded areas.
However, when the earbuds were in my ears and I wasn't listening to anything – I did occasionally hear a low hissing sound – the type you sometimes hear from electrical audio equipment.
The hissing disappears when you start listening to something, but when I was using the earbuds just for some active noise cancellation – that hissing was distracting. And since I never heard it with the NeoBuds Pro earbuds – I'm not sure what brought it up this time around.
You can switch between using both earphones or just one – if you put one back in the case, that one will stop playing – and will instantly resume playing if you take it out again.
There's no in-ear detection though, so the music won't start/stop automatically depending on the earbuds' in-ear status.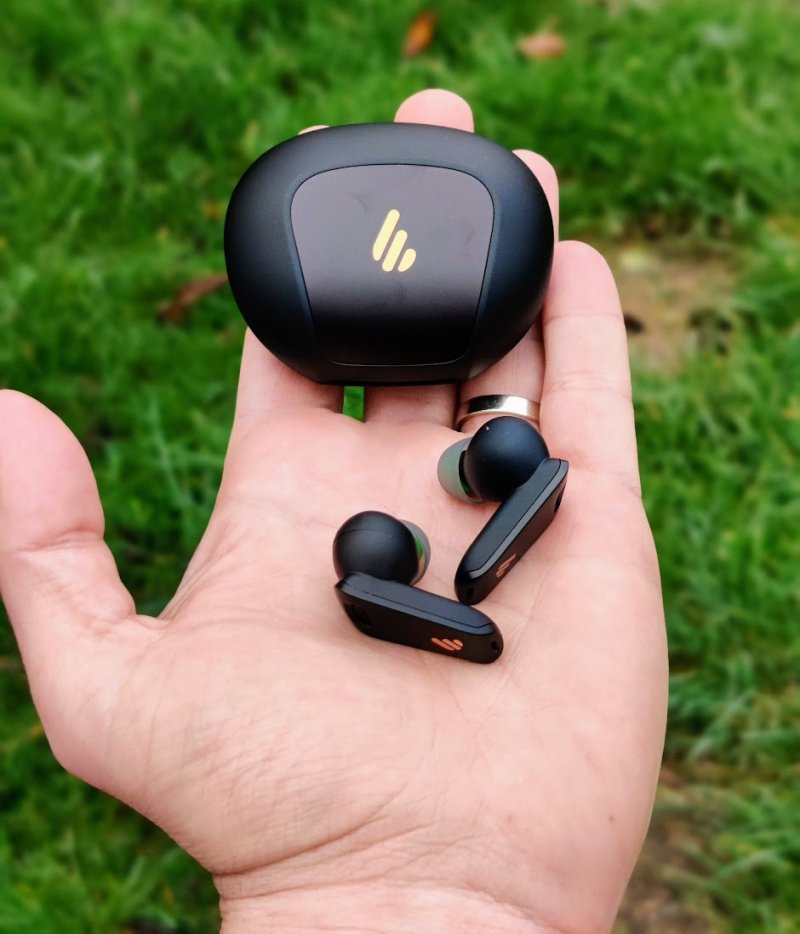 The buttons are touch-based – there's a small area above one of the microphones on each earbud, where you're supposed to "tap".
This is an instance where I did see some improvement over the NeoBuds Pro – where taps wouldn't register occasionally. This time around, I never had this problem – and the touch pads were sensitive enough without being overly sensitive.
However, one annoyance that remains, is that the NeoBuds S only work with Double-Taps and Triple-Taps. There's no single-tap or tap-and-hold, so you're limited to only 4 functions – double-tapping or triple-tapping on either side.
You can use Edifier's app to customise what those taps do, which is a nice touch (no pun intended) – but with only 4 combinations, I had to decide whether I wanted to be able to control the volume, or skip/rewind tracks (in addition to Play/Pause and changing Noise Cancellation modes).
The app (which is available for both iOS and Android), is useful – you can use it to change the noise cancellation/ambient levels, play with the EQ levels, re-assign the touch controls, change the colour of the light on the case, and activate the advanced sound modes.
Audio Quality And ANC
Comparisons aside, the Edifier NeoBuds S really deliver when it comes to audio quality, Giving you excellent audio quality (for both music and podcasts), along with impressive Active Noise Cancellation and a useful Ambient/Transparent mode.
I started my testing with Michael Jackson's Human Nature. The sound was clear and convincing, even though it lacked some warmth.
The lead vocals were silky, with a constant shaker-beat sugar dusting the higher end. The bass was prominent enough, and the soft guitar and synthesized riffs made this one a satisfying listening experience.
Moving on to Lady Gaga's Hold My Hand, the softer portions of the recording were easy on the ear, showcasing a pleasant tone that sounded clear without being harsh.
When the chorus dropped, I got a lovely bass blast with an electric aftertaste that was handled well by the earbuds. Lead vocals were exceptionally well balanced, staying intense without roaming to any discomfort.
Generally, the bass isn't as strong as it was in the NeoBuds Pro – at least not out of the box, as you can tweak it via the app – but that's not to say it's too weak, either – it's just better balanced this time around.
Podcasts also sound very good, with very clear, well-balanced sound.
The Active Noise Cancellation is another area where the NedBuds series excels. Edifier says the ANC here reduces noise by up to 42dB. In real-world conditions, it worked best with low, repeating sounds – as is common at this price levels.
So the train's humming all but disappeared, as did the sound of my electric heater. They were also quite good outside, blocking out buses and cars (so be careful when you're walking near roads!).
The ANC here isn't perfect, mind you – and speech still gets through, as do distinct noises like keyboard typing – but overall, at this price level, you're getting decent blocking.
The Ambient mode does the opposite – it amplifies noises around you. Again, this works quite well – so when I walked outside, it made car noises even louder, so I felt safer walking next to busy roads.
Battery Times
One of my complaints when I reviewed the NeoBuds Pro, was about the mediocre battery times. It's slightly better this time around – but not by much.
When fully charged, and with ANC turned on, you can use the earbuds for up to 5.5 hours, with 16 more hours in the case. With ANC turned off, you get 6+19 hours.
It's OK for most use cases, and just a couple of years ago this would have been quite sufficient – but these days, when you can get considerably cheaper earbuds like the EarFun Air Pro 2 that give you 30+ hours, or the Lypertek PurePlay Z3 that hold up to 80 hours – 5.5+16 is certainly on the lower end.
Thankfully, there's also a Quick-Charge feature, which lets you get 1 hour of use after a 10-minute charge of the earbuds.
As for the battery status, for the earphones, that glowing light on the case also shows you the battery level (of the case), which is helpful.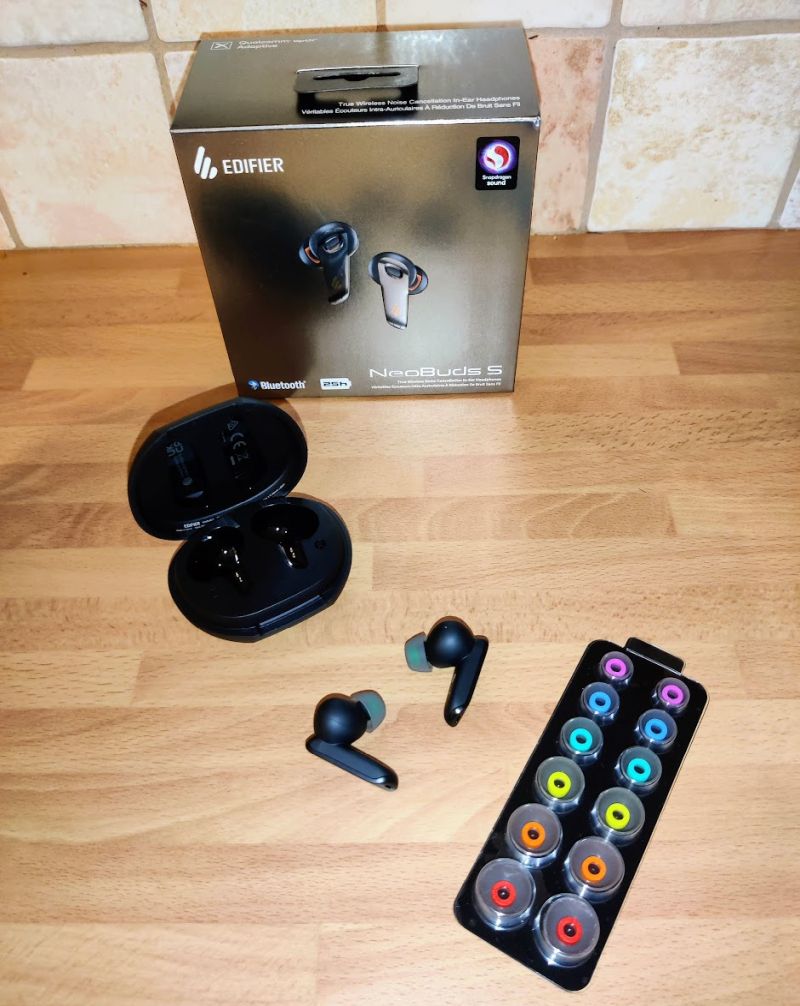 Bottom Line: Are The NeoBuds S For You?
The NeoBuds Pro were on the top end of the budget-priced earphones, and with such excellent features and sound quality, they were rather easy to recommend.
At £150, however, the NeoBuds S have moved to a different league/market – that of the high-end (or semi-high-end) earphones – and I'm not sure they're good ENOUGH for that price level, especially with some basic features – like wireless charging – still missing.
Having said that – I really enjoyed the NeoBuds S. They're comfortable in the ear, music sounds great, and if you happen to have a phone that supports Snapdragon Sound – you might enjoy them even more.
So, on their own, the NeoBuds S are easy to recommend – they're just too expensive, when you can get the NeoBuds Pro for less, with very similar performance.
Note: The earphones were supplied by the manufacturer for this review. As always, this did not influence my unbiased opinion of the product.