True wireless earphones come in so many shapes and sizes (and price points) these days – so it's no longer just about picking "the best". Instead, you can also give a thought to what you're planning TO DO with your new earphones.
The Cleer GOAL true wireless earphones have a very clear (Cleer!) answer: they're the pair you pick up when you go for your daily exercise. With an open-fit design that helps you be aware of your surroundings, C-Skirt "wings" for a secure fit in your ear, IPX4 water and sweat resistance, touch controls and a 6-hour battery life, they promise to fit your running or gym-going needs.
However, customising its features and design to fit sports usage, does mean other areas suffer – such as the sound quality (mainly the bass) and the comfort. In this review, I'll weigh the pros and cons – and whether this is the right pair for YOU.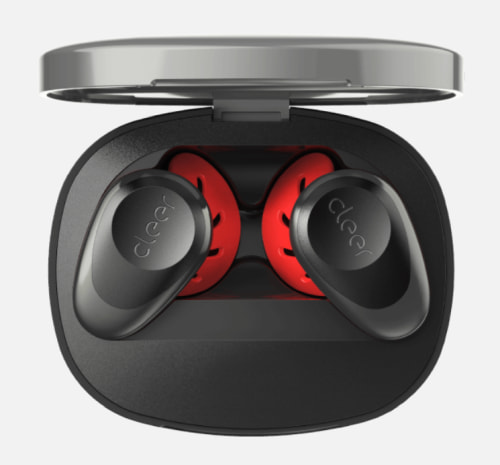 Quick Look – Cleer GOAL
What are they: True wireless open-fit earphones that connect to your phone/laptop/streaming device via Bluetooth, and are aimed for sports use.
Overall
Pros
Sit securely in your ears (so won't fall off when running)

Excellent touch controls

IPX4 Waterproof

Built-in mic works well for phone calls
aptX Support
Cons
No active or passive noise-cancelling (So sounds around you 'get in')

Bass is very thin

Can get uncomfortable over a long use
---
Features and Specs
Driver unit: 14mm
Battery Playing Time: 6 hours
Additional Battery Time in Case: 14 Hours (20 in total)
Full charging time:

2 hour

s
Case charging port: USB-C
Weight: 6.5g (Earbuds), 50g (Case)
Bluetooth Version: 5
Extra Features: Can be used to control voice assistants, In-ear detection that stops the music, 4 silicone "sleeve" sizes included
---
Summary
True wireless earphones for a very specific use-case: They fit very securely in your ear, so are perfect for running or jumping around in the gym. With no in-ear seal, however, the music quality suffers, so they won't be the best choice for everyday music listening.
---
Who Are The Cleer GOAL For?
True wireless earphones are everywhere these days (see more of our earphone reviews here), and reviews usually focus on sound quality, bass levels, noise cancellation and all the expected features. But just like we have different sets of clothes for different uses, maybe it's time to look at different sets of earphones for different uses as well?
The Cleer GOAL truly raise this question. "Cleer Audio" has been around since 2012, specialising in personal audio equipment like earphones and speakers – so they know their way around sound products.
With the GOAL, they set out to create sport earbuds, and they tick most of the boxes one would look for when exercising with earbuds: they fit securely in your ear (thanks to the C-Shaped wings), they have water and sweat resistance, they're very light-weight, and – this is where things get complicated – they have no noise cancellation whatsoever, active or passive.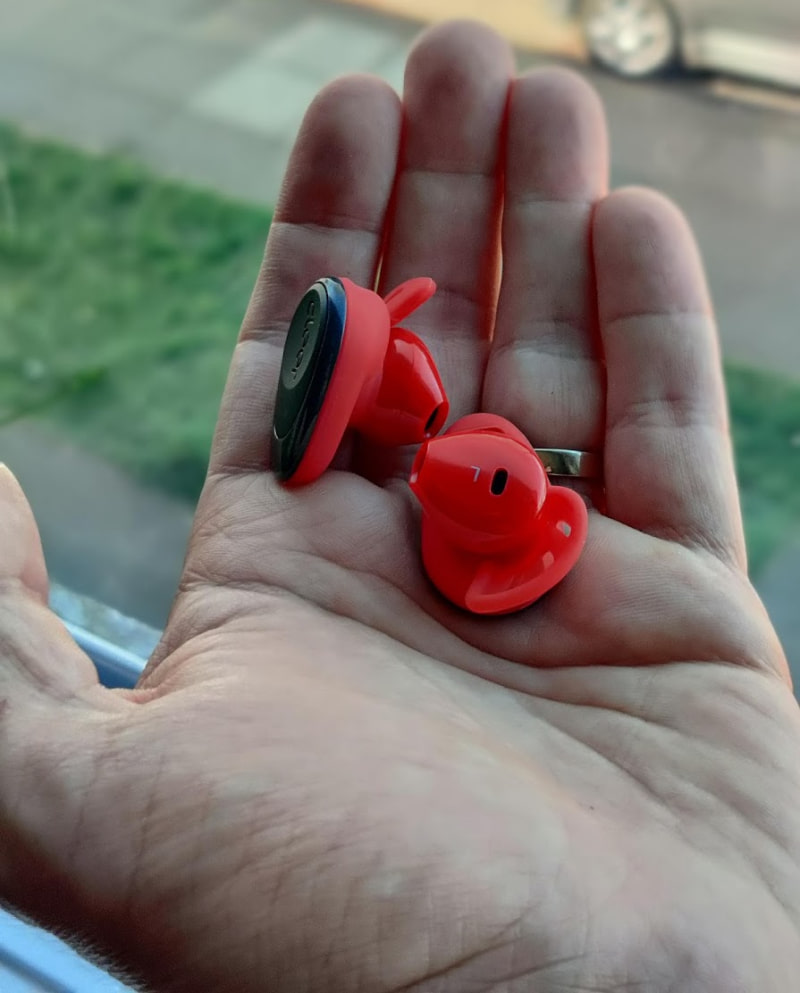 The GOAL's "open fit" design means they DON'T create a seal inside your ear canal, so environmental noise can easily creep in. When you're running outside, and cars or people might bump into you – that's a good thing. When you're walking around with weights in the gym, and someone might step over your leg – that's also a good thing.
But when you're sitting alone at home, wanting to listen to some music – it's not great. The music, while clear and energetic, feels very thin – especially because of the very weak bass (which is the price you pay for having no in-ear seal).
So, you get the drift: great for exercising, not so great for general music listening, especially in noisy environments.
Now let's take a deeper look…
Using The Cleer GOAL Earphones
Size and Comfort
The first thing you'll notice about the GOAL buds is the colour – the inner part, and the "wings", are bright red – which is a nice diversion from the black/white we see everywhere else.
The second thing you'll notice is how lightweight they are. At just 6.5g each, they're not the lightest I've ever seen, but you will hardly feel them in your hands, let alone in your ears.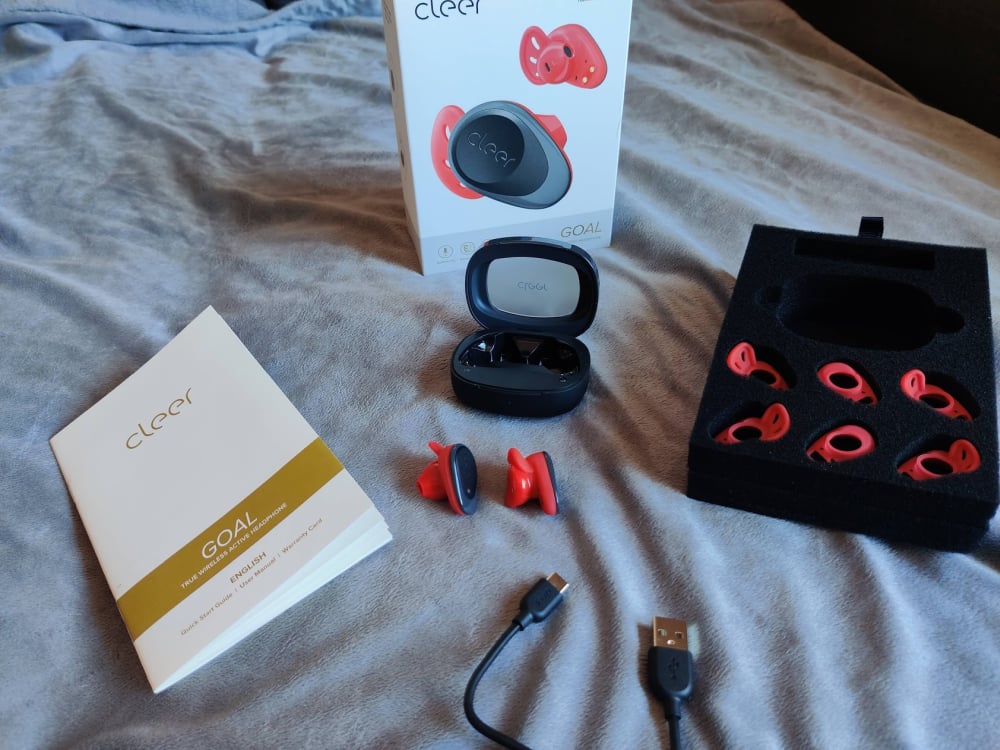 In the box, you will find the charging case (which is also very lightweight, though a bit large), a USB-C charging cable, and 4 silicone sleeves – 3 with Freebit "wings" in different sizes, and one without wings.
The tips are made of plastic, without any rubber covers. If you've ever used the Apple AirPods, for example, you will know that plasticky feeling in your ear – and it's not the most comfortable feeling, unfortunately. If you leave them inside your ear for several hours, that plastic is going to get… painful.
The positive side, however, is that they offer a truly secure fit: you slide the buds into your ear, then you "twist" them backwards for the wing to sort of lock-in (if it doesn't, you can try a differently sized wing).
Once you get that "lock", the fit is probably the best I ever experienced, in terms of how secure it feels inside your ear – I jumped, I tilted my head left and right, I ran – and the earbuds never moved. So for exercising, they're perfect.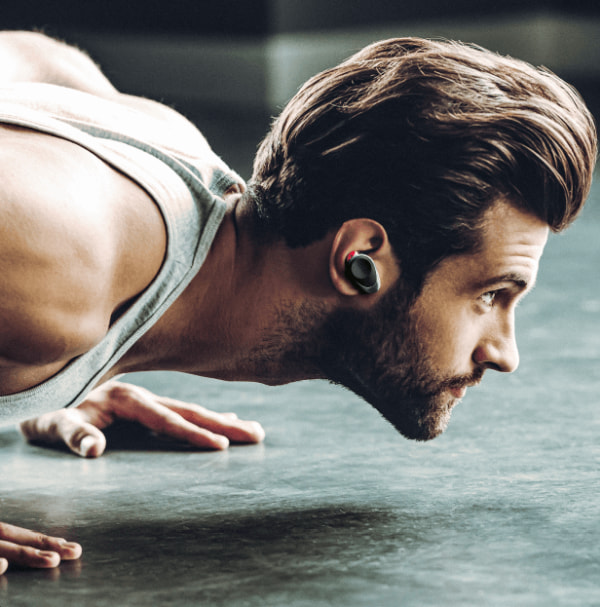 The GOAL's buttons are touch-sensitive, with a large surface on the outer part for you to touch. That surface is adequately sensitive – I never had to push the earbuds, just touch them lightly.
That being said, as with every touch-based earphones, you will find yourself accidentally touching that button when you take them in and out of your ears – but in general, it never felt overly sensitive.
The earbuds have an IPX4 water resistance rating – so they're protected against water splashes, rain, or your own sweat. You can't immerse them in water, though – so don't try to swim with them.
Pairing and Controlling
The Cleer GOAL have Bluetooth 5 support, and pairing them was remarkably easy.
What is often a pain point with other Bluetooth earphones, was quite smooth in this case: when you first take them out of their case, they automatically enter pairing mode. Later, if you need to pair them to another device, you simply tap five times – and they're in pairing mode again.
My mobile phone was always quick to pair with them when I took them out of their case, and I had no connection issues or noisy reception interruptions. When paired to my PC with a Bluetooth dongle, however, they did disconnect occasionally – so as always, Bluetooth remains the most annoyingly unexpected kid in the class.
Controlling the Cleer GOALs is very straightforward with the touch buttons: A single tap for play/pause, double-tap for Next, triple tap for Previous track, and tap-and-hold for triggering the voice assistant on your phone (or rejecting a call).
Changing the volume is done by double tapping and then holding – on the right side to raise the volume, and the left side to lower the volume. It works, but you need to be careful – if you keep holding, the volume can go very high very fast.
They also have in-ear detection, so if you pull one of the earbuds out of your ear – music will stop automatically. Once you put it back, music SHOULD start again, though it didn't always work for me.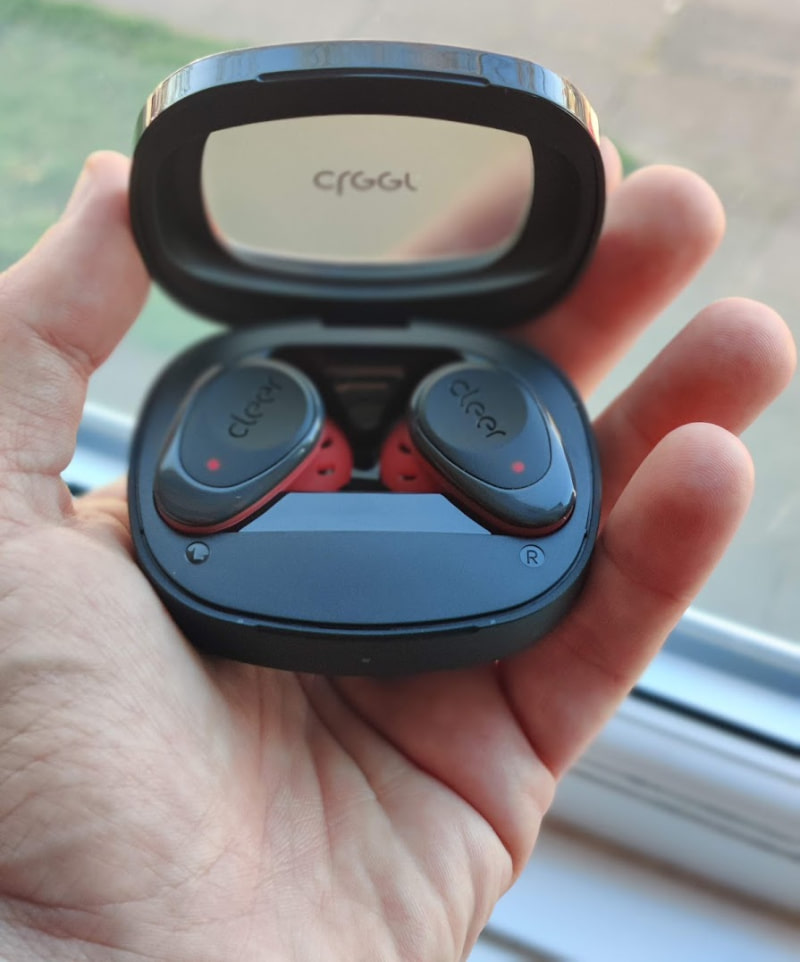 Cleer GOAL Sound And Music Quality
As I said before, this is where things get complicated.
So let's start with the good stuff: overall, the GOALs provide clear, energetic sound. The mids and highs, which sometimes tend to become unpleasant in other earphones (especially at higher volume levels), don't stray into harshness territory in this case.
However, because the GOALs are meant for sports and exercising – they purposely don't create a seal in your ear. This means two things – rather thin, unexciting lows (you can hear the bass but not feel it), plus environmental sounds that slip into your ears and overpower the music.
When I walked in quiet streets outside, I could hear the music just fine, while still being alert to voices around me. When I walked near a road with a lot of cars, however, the street noise was louder than the music.
That's OK when you're running, as the music can still give you a mood boost if it's loud enough (and you WANT to hear that bus coming behind you), but you're not going to enjoy any quiet songs in such surroundings, and don't even think about using these in a crowded (and noisy) tube.
Sitting in a quiet room at home, it was easier to hear the good – and the bad – that the GOALs provide.
Listening to In My House by Mary Jane Girls, I experienced surprisingly good overall sound. The earbuds provide a rather rich mid-high tone with almost no "shrilling" moments.
The bottom lows weren't very impressive, with an OK bass that would have benefited from better isolation. Vocals are prominent enough without annoying the ear.
In Pat Benatar's Fire and Ice, The lead vocal is piercing through the mix without being too harsh.
Electric guitars are clear and rich. The bass is reasonably natural but lacks some character again, and the same goes for the kick drum. Altogether the song retains some of its rock qualities – but sounds rather thin.
Podcasts sounded surprisingly clear – some earphones muffle talking voices with too much bass, but in this case (where the bass is thin anyway), it was a real pleasure to listen to podcasts or talk-radio programmes.
Phone calls were also quite good – the GOALs use echo suppression technology to prevent outside noises from sliding into your calls too much, and the person on the other side of the call could always hear me loud and clear.
Cleer Goal Battery Times
Fully charged, you can use the GOALs for up to 6 hours. That's somewhat on the low-end, compared to other earphones on the market these days – but it's a reasonable number, and should be enough for any type of exercise.
In the case, you get 14 more hours of use. Again, that's on the low side, especially with such a big case – but it's a decent number.
A full charge takes about 2 hours, and there's no quick-charging or wireless charging. And when the batteries have less than 10% left, you hear an audio warning when you turn them on.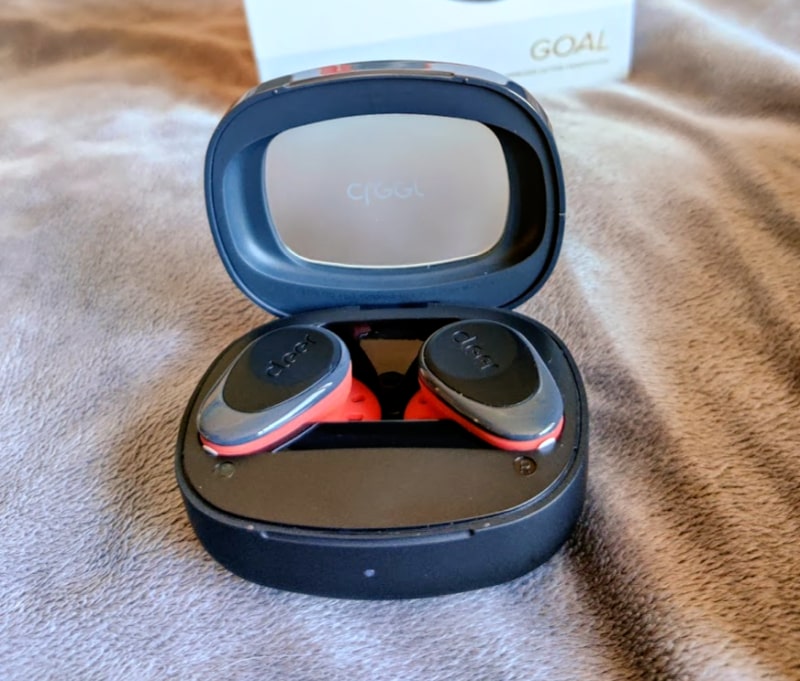 Bottom Line: Are The Cleer GOAL For Me?
Here's the question you need to ask yourself: do you need earphones for sports and for exercise? Do you regularly go out running, or to the gym, and need a pair that would be perfect for those moments?
If the answer is Yes, then the Cleer GOAL are a great choice. They're not particularly cheap, but they're affordable enough to buy as a second, exercise-specific pair.
You can still use them occasionally for music at home, or on your way back from the gym, and they're excellent for podcasts. But if you're a heavy music listener, you will most likely need a second pair that's more suitable for those times when you're NOT exercising.